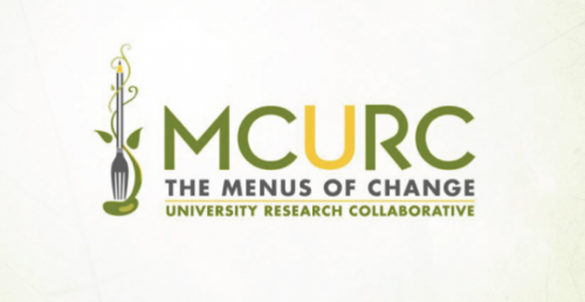 Vanderbilt was recently awarded membership to the Menus of Change University Research Collaborative (MCURC). Co-founded and jointly led by Stanford University and The Culinary Institute of America, MCURC is a working group of leading scholars, food service business leaders and executive chefs from invited colleges and universities who are accelerating efforts to move Americans toward healthier, more sustainable plant-forward diets.
The project aims to promote sustainable choices at universities to raise awareness among students of the impacts of their food choices later in life. At the core of Menus of Change are the 24 Menus of Change Principles of Healthy, Sustainable Menus. This initiative leverages the unique position of universities to advance these types of lifelong food choices among students by connecting them to a diversity of insights from academic programs, dining services and athletics.
Vanderbilt Campus Dining has received a number of recognitions for its commitment to providing the highest-quality, best-tasting and most nutritious, diverse and sustainable menus possible. It is the winner of several prestigious awards in the food service industry.
Campus Dining prioritizes sustainable facilities that are energy efficient and reduce food waste. Three of Vanderbilt's dining facilities have LEED certifications and use EnergyStar appliances. Vanderbilt's main dining facility, Rand Dining, uses an ORCA digester to transform all back-of-house food waste into water, and The Commons Dining Center uses a pulper to remove excess water from food waste, reducing the weight of materials that have to go to the landfill. To redirect food waste generated by diners away from the landfill, Vanderbilt introduced a pilot food waste collection program at The Commons Center in fall 2017. The food waste from the pilot project is composted at an off-site facility. In addition, hydration stations are found throughout campus to reduce the use of bottled water.
Campus Dining also gives diners responsible choices at its dining centers. Vanderbilt's Eat the World, Save the Earth program offers students access to easy reference guides and identification icons for specific food choices, such as organic, vegetarian and vegan; local food sourcing; seasonal and local menus; an online nutrition calculator; an on-staff registered dietician; and healthy menu options for diners of all dietary needs.
Partners from Vanderbilt Campus Dining, Rooted Community Health, and the Sustainability and Environmental Management Office (SEMO) worked collaboratively to achieve acceptance to MCURC. Vanderbilt representatives to MCURC include:
Laura Nairon, associate vice chancellor for business services
David Ter Kuile, executive director of Campus Dining
Bill Claypool, assistant director of dining services and executive chef
Keith Meador, professor of psychiatry and behavioral sciences and director of the Center for Biomedical Ethics, who leads the Rooted Community Health initiative
Dianne Davis, licensed nutritionist
Suzanne Herron, student employment and sustainability coordinator for Campus Dining
Contact: Sustainability and Environmental Management Office, 615-322-9022
sustainvu@vanderbilt.edu