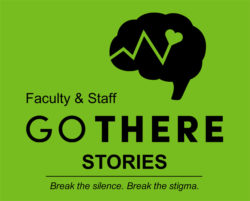 The Office of the Chancellor will host a gathering of sharing, listening and solidarity around the subject of mental health and well-being on Wednesday, Nov. 8. All Vanderbilt faculty and staff are encouraged to attend.
The event, part of the campuswide GO THERE mental health campaign, will be from 2 to 4 p.m. in the Alumni Hall Reading Room (Room 206).
Throughout October, Vanderbilt faculty and staff were invited to submit their GO THERE stories detailing personal struggles with mental illness, efforts to support loved ones through mental health challenges, experiences with grief over loss of a family member or loved one, and the details of their recovery and self-care. Ten presenters were selected from the numerous submissions, and each will share a personal story in a TED talk-style format on Nov. 8.
In addition, Chancellor Nicholas S. Zeppos will offer remarks, and light refreshments will be served.
Learn more about the GO THERE initiative >>
For more information, please contact Linzie Treadway at linzie.treadway@vanderbilt.edu.