Chancellor Nicholas S. Zeppos and Provost and Vice Chancellor for Academic Affairs Susan R. Wente joined more than 500 students, faculty and staff to kick off the university's campuswide campaign "GO THERE: Break the silence. Break the stigma" on Jan. 27 at the Student Life Center. The campaign's aim is to create a campus culture in which community members can have brave dialogue and honest self-reflection in order to support their own mental health and well-being and that of their fellow students, faculty and staff.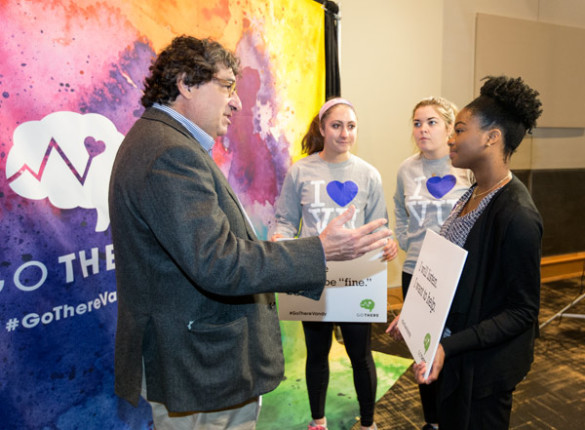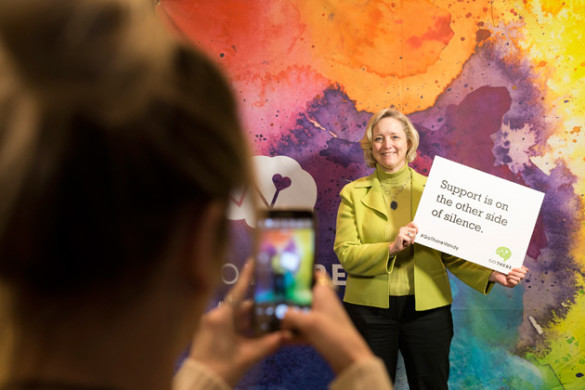 Representatives from the numerous mental health and well-being resources on campus were on hand to provide information and stress-relieving activities such as coloring books, desk yoga demonstrations and therapy dogs. Blair School of Music students performed music at the event, and attendees were able to talk with and submit suggestions to the co-chairs of the Chancellor's Strategic Planning Committee on Mental Health and Wellbeing. The committee is conducting a comprehensive review of existing campus resources and programs and will make recommendations on needed changes, with particular emphasis on reducing stigma around support-seeking within the campus community. The committee plans future opportunities for campus community members to offer feedback as the committee develops its report for the chancellor.
For more information about mental health and well-being resources, visit the university's mental health and well-being website.