Chancellor Charter tour explores the immigrant and refugee experience in Nashville
by
Nicholas Moore
Oct. 30, 2017, 12:13 PM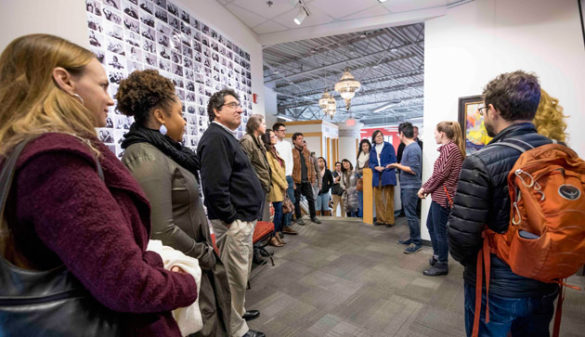 Vanderbilt students, faculty and staff joined Chancellor Nicholas S. Zeppos on Oct. 28 for a rolling seminar to visit with and hear from citizens and leaders in Nashville's immigrant and refugee communities about the challenges and opportunities they face.
The daylong event was the first installment for the second year of the Chancellor's Charter Series. The excursions are open to the Vanderbilt community and are designed to promote Nashville's civic values and history. Earlier tours have focused on Nashville's interfaith community and the city's music heritage.
We engage in these tours not only to bring our own community together, but to come together with members of the rich and diverse communities that make up Nashville.
"We engage in these tours not only to bring our own community together, but to come together with members of the rich and diverse communities that make up Nashville," Zeppos said. "We have so much to learn from these communities. Today is about learning from one another and celebrating the diversity of our city while thinking about how to further involve Vanderbilt in what is happening here."
The first stop brought the group to Casa Azafrán, a cultural hub and community center located in South Nashville that has been coined "The Gateway to Nashville's International District." Casa Azafrán serves as collaborative space for 10 community-based organizations that call the center home. The name is derived from two languages—Spanish and Arabic. Casa means "home" and azafrán means "saffron," a treasured spice commonly used by many of the cultures represented in the center.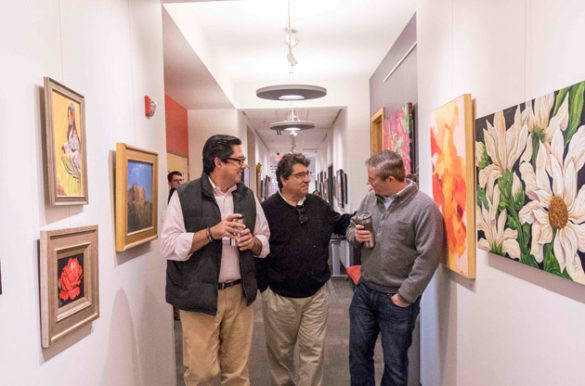 For many of the immigrant and refugee communities that come to the center, food is an important bond. Jose Gonzalez, co-founder and finance director of Conéxion Américas, shared with the group about the Mesa Komal commercial kitchen, a "culinary incubator" that jump-starts entrepreneurial opportunities for aspiring caterers throughout the city. Over half of the kitchen's use is by immigrants and refugees who have recently moved to Nashville.
Conexión Américas assists families and individuals in achieving goals such as buying homes, starting businesses, improving their conversational English, navigating systems in their new community, learning their rights and responsibilities, helping their children succeed in school, and bettering their lives through nationally recognized services and programs. Zeppos serves on the organization's board of directors.
To finish this stop, leaders from the Tennessee Immigrant and Refugee Rights Coalition and the American Muslim Advisory Council of Tennessee shared with the tour the personal journeys that led them to become dedicated to the causes associated with immigrants and refugees across the state.
After a pause for lunch at Taj Indian Restaurant, the tour headed to a presentation by the Hispanic Family Foundation, an organization that seeks to serve and strengthen the Hispanic immigrant populations of Middle Tennessee. One major initiative driven by HFF that has significantly affected the economic impact of this community is the opening of Plaza Mariachi. The facility, which opened this year, features a fusion of culture, art, music, entertainment, food, services and retail in the style of traditional marketplace streets from old Mexico. The group was given some time to experience the establishment firsthand.
"I didn't know that there were places like this that exist in Nashville," said Aya Abou-Jaodue, a junior studying child studies and medicine, health and society who also serves as a resident adviser in McTyeire International House. "As an R.A., I'm always looking for exciting new places for programming. I need to tell my friends about this."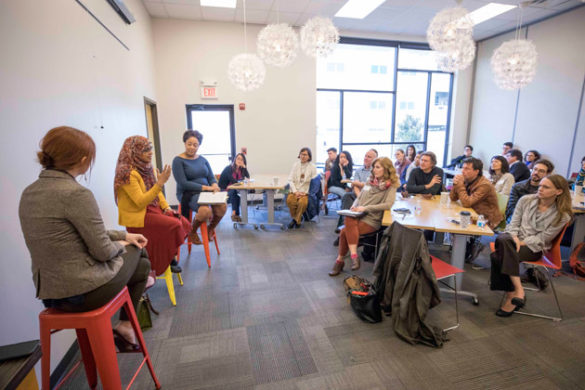 The final stop of the day was at the Nashville International Center for Empowerment, an organization dedicated to ensuring that refugees and immigrants in the city achieve their full potential. Many employees at NICE are refugees and immigrants themselves. Refugees from Kurdistan, South Sudan and the Congo shared powerful stories and how they found their home at the organization.
Students from Glencliff High School trained in intergroup dialogue then led small groups to talk further about personal experiences with immigrant and refugee communities.
Chancellor Charters are designed to focus on community engagement and lifelong education. The next tour is slated to take place in the spring.