Excited visitors got a firsthand look Tuesday at the new, state-of-the-art facilities for the Vanderbilt Institute of Nanoscale Science and Engineering, with the showpiece being a 10,000-square-foot, commercial-grade cleanroom.
The VINSE Cleanroom in the Engineering and Science Building more than triples the space researchers have used in the Stevenson Center since 2003. The room speaks to Vanderbilt's growing investment and expertise in nanoscale engineering.
"VINSE, in so many ways, advances the university's values," Vice Chancellor for Academic Affairs and Provost Susan R. Wente told the crowd at the grand opening. "It advances our values of research, education and outreach, and the center embodies all of these tenets in ways that I am incredibly proud of."
Faculty, researchers and graduate students in engineering, chemistry and physics use the space. With its main walkway along a two-story glass wall facing the Innovation Pavilion, passersby can see cleanroom workers, perhaps inspiring some students to consider nanoscale research.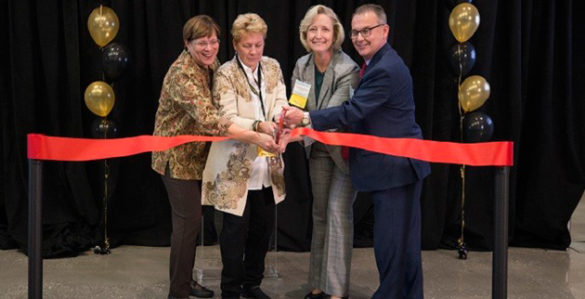 Sandra Rosenthal, VINSE director and the Jack and Pamela Egan Professor of Chemistry, said the space was built to accommodate both existing faculty and future professors with specialized equipment needs. But the facility will do far more than help recruit top faculty and graduate students—it already hosts an undergraduate class in nanoscale semiconductor processing and fabrication and, in the spring, another undergraduate course in graphene transistors.
A representative from the office of U.S. Sen. Bob Corker attended the grand opening and open house, along with several local and university officials.