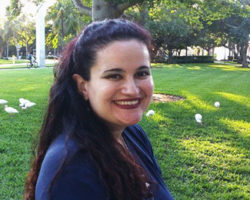 Luciana de Oliveira, president of Teaching English to Speakers of Other Languages (TESOL) and professor in the Language and Literacy Learning in Multilingual Settings program at the University of Miami, will speak at Vanderbilt's Peabody College on Thursday, Nov. 2.
De Oliveira will discuss "A Language-based Approach to Content Instruction for English Learners" beginning at 5:30 p.m. in Mayborn Hall, Room 204.
De Oliveira's research focuses on issues related to teaching English learners (ELs) at the K-12 level, including the role of language in learning the content areas, teacher education, advocacy and social justice, and non-native English-speaking teachers in TESOL. She examines the challenges of the State Standards for ELs and their implications for teachers.
Contact: Ana Christina da Silva, (520) 289-5488
chris.dasilva@vanderbilt.edu