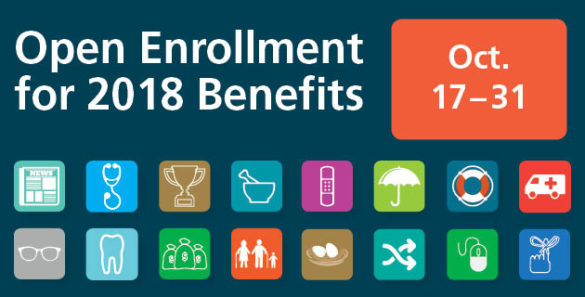 Open Enrollment for your 2018 benefits is happening now. ALL benefits-eligible employees must complete Open Enrollment, even if you don't plan to make changes or plan to waive coverage.
The enrollment period ends at 11:59 p.m. on Oct. 31. Elections are effective Jan. 1–Dec. 31, 2018, unless you have a qualifying event, such as getting married or having a baby.
If you have a spouse who works for another employer that also offers benefits, including Vanderbilt University Medical Center, you should carefully consider the benefits options that work best for your family.
If your spouse's Open Enrollment coincides with Vanderbilt's, you can easily compare plans and enroll in the best combination to meet your needs.
If your spouse's Open Enrollment occurs after Vanderbilt's, you should still make your elections during our Open Enrollment period. You can change your Vanderbilt benefit elections during your spouse's enrollment—after our enrollment is over—by declaring a life event in My VU Benefits and selecting "Gain or Loss of Coverage Elsewhere."
Please note that changing your 2017 benefits will prompt you to complete a new Open Enrollment window for 2018 benefits.
If your spouse is on the Vanderbilt Health Plan and has access to coverage through another employer, including Vanderbilt University Medical Center, you will be charged a $100 monthly spousal coverage fee.
Learn more and enroll
Learn more about Open Enrollment and sign up for 2018 benefits now at vu.edu/oe. Remember to have your VUnetID and password ready and active before you enroll. If you need help with your VUnetID or your password, visit it.vanderbilt.edu/accessvu or contact your IT support provider or the Help Desk.