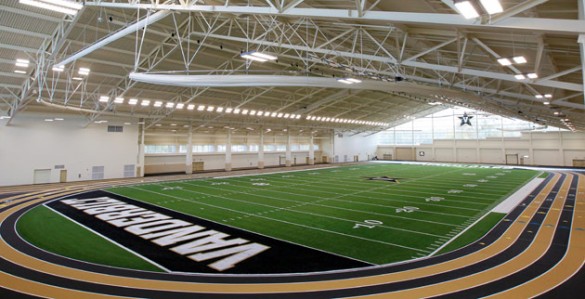 The newest addition to the Vanderbilt Recreation and Wellness Center, the fieldhouse, has received LEED Silver certification from the U.S. Green Building Council. LEED, Leadership in Energy and Environmental Design, is a certification program that is considered the standard for environmentally responsible construction.
The renovated VRWC opened to the campus community in January 2014 with upgrades including the fieldhouse, demonstration kitchen and bowling alley. The fieldhouse includes an indoor turf football field and a 300-meter track.
The use of natural light through the north- and south-facing window walls lessen the need for interior lighting in the fieldhouse. To supplement the natural light in the space, energy-efficient LEDs were installed, including high bay fieldhouse lighting.
"During the initial phases of design, the team planned on using high-efficiency/high-discharge fluorescent lighting," said Paul Marshall, project manager and architect in Campus Planning and Construction. "However, as we were completing design, new LED high bay luminaires showed up at the industry trade show LightFair. Upon further evaluation, we made the decision to install these state-of-the-art fixtures to provide the most efficient, long-lasting and controllable lighting solution for the indoor practice facility. This was Vanderbilt's first large-scale installation of athletic LED sports lighting, which were later used at Hawkins Field."
In addition, the air conditioning units used in the fieldhouse recirculate conditioned air rather than using all outside air, improving efficiency of the system. Particular attention was paid to indoor environmental quality during construction, and low-emitting materials were chosen when installing finishes such as paint, flooring and adhesives.
VRWC brings Vanderbilt's total number of LEED-certified projects to 17.
For more information about green building at Vanderbilt, visit the Campus Planning and Construction website or the SustainVU website, contact sustainvu@vanderbilt.edu, or call 615-322-9022.
Contact: Sustainability and Environmental Management Office, 615-322-9022
sustainvu@vanderbilt.edu