Media Inquiries
Latest Stories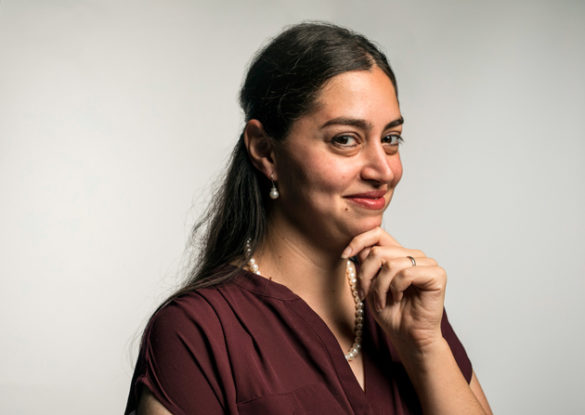 The regimen is all too familiar for those battling breast cancer and for their loved ones: tough rounds of chemotherapy, radiation and surgery. The patient goes on to live a long, cancer-free life when that regimen works.
Marjan Rafat studies when it doesn't.
The assistant professor of chemical and biomolecular engineering comes to Vanderbilt from her postdoctoral research at Stanford University, where she is figuring out why breast cancer's most aggressive form—triple-negative—comes back in 15 percent of cases.
"In small subsets, you get recurrence, even in the site you've irradiated," Rafat said. "Why does this happen? What are the conditions that could cause this?
"What I've found is that it's very immune-system dependent," she said. "In patients whose immune systems don't bounce back after chemotherapy, that's where you see these difficulties." Her future research will include looking at why recurring cancers sometimes metastasize to other organs, and she wants to design targeted therapies to prevent that.
It's serious, important research, but Rafat said she plans to keep balanced by enjoying her favorite hobby here in Nashville: sampling local cuisine. A San Francisco Bay-area native, she traveled 3,000 miles away from family to the East Coast for a bachelor's degree at MIT and a master's and Ph.D. at Harvard University, but hasn't spent much time in the South.
Compared to most other institutions I looked at, there's a level of collaboration at Vanderbilt that is unmatched.
She also wants to continue her outreach efforts in the science, technology, engineering and mathematics fields, mentoring K-12 students to increase the presence of women and other underrepresented groups.
Rafat said she's confident she'll get the support she needs at Vanderbilt, which she first visited while giving an Emerging Scholars Lecture. The lecture series showcases accomplished students from underrepresented groups who are wrapping up Ph.D.s and postdoctoral placements.
"[rquote]Compared to most other institutions I looked at, there's a level of collaboration at Vanderbilt that is unmatched,"[/rquote] Rafat said. "Being a part of the regenerative medicine intellectual neighborhood at the School of Engineering and working within walking distance of the School of Medicine will be perfect for fostering collaborations."
View the complete list of new Vanderbilt University faculty for 2017-18.