Media Inquiries
Latest Stories
---
---
After joining Chancellor Nicholas S. Zeppos for a discussion on "The Presidency and the Rule of Law" Tuesday night, former Acting Attorney General Sally Yates joined Zeppos for an episode of The Zeppos Report.
In the podcast, the two lawyers discuss the role of the Department of Justice at length, touching on topics such as the Trump administration's controversial travel ban, Deferred Action for Childhood Arrivals (DACA) and the Russia investigation.
Yates, released from her role in the Trump administration after 10 days, shares the following advice: "Batten down the hatches, keep looking straight ahead, and do your job," she said.
As the conversation progresses, Yates and Zeppos return to the themes of free speech and civil discourse, which serve as the bedrocks for both Vanderbilt University and the Department of Justice.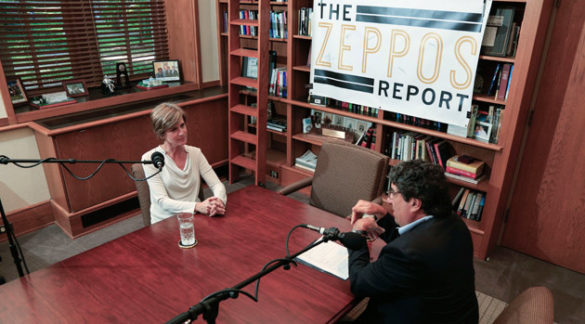 "We are big believers in free speech," Zeppos said. "Yet, I think for a university, it's not just the vocal protest but its civil discourse and engagement."
Yates agrees, noting that the face-to-face interactions and deep discussions that often occur in university settings or through community-based programs are essential for the continued health of the country's democratic institutions.
While unsure about her next step, Yates concludes the interview by expressing her continued reverence for the vocation of public service. She remains tightly tethered to the tenets of the Department of Justice.
"The only agency that's named for a virtue," Yates said.
The podcast is available on SoundCloud, Stitcher, Google Play, iTunes, YouTube and The Zeppos Report website.