Vanderbilt University has been named the 10th most innovative university in the world, according to a Thomson Reuters analysis of 100 educational institutions around the world doing the most to advance science, invent new technologies and power new markets and industries. The ranking is based on a number of indicators, including patent filings and research paper citations.
"Innovation, research and collaboration provide the lifeblood for discovery," said Provost and Vice Chancellor for Academic Affairs Susan R. Wente. "However, none of that happens without fostering a curious, diverse and inclusive academic community that works across disciplines to solve some of our world's greatest challenges. That's what we aspire to every day at Vanderbilt, and today's recognition shows we're on the right track."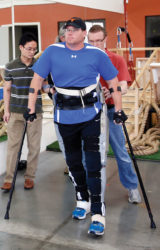 Vanderbilt, which ranked 20th in 2016, leapt to the top 10 "after seeing big increases in how often its patents are cited by other researchers around the globe," Reuters said. This continues a rapid upward trend for Vanderbilt; it placed 34th in the inaugural 2015 ranking.
Between 2010 and 2015, Vanderbilt filed 218 patents across a wide spectrum of technologies ranging from biotech to agriculture, with a 43.1 percent success rate—a figure comparable to or higher than its top-10 peers. Vanderbilt's overall commercial impact score is 74.5—about a third greater than the average score of 48.7. Reuters describes commercial impact as "an indicator of how often basic research originating at an institution has influenced commercial R&D activity, as measured by academic papers cited in patent filings."
Vanderbilt is also the only new school in the top 10; the other nine remain unchanged from last year, with Stanford University in first place, followed by Massachusetts Institute of Technology and then Harvard University.
Overall, 49 of the universities in the list are located in the United States, including seven of the top 10 and 16 of the top 20. "Tiger economies and competition from China will undoubtedly be forces to reckon with, but anyone looking to find the most influential research leading to the most transformative technologies should look West, not East," the authors said.
Vanderbilt expanded its Center for Technology Transfer and Commercialization in 2011 in order to accommodate increased demand from researchers, and launched the Wond'ry in 2016 to incubate cross-disciplinary discovery, innovation and creativity.
Earlier this month, Vanderbilt moved into 14th place in the U.S. News and World Report rankings, its highest ranking to date by that publication.