The Center for Technology Transfer and Commercialization (CTTC) at Vanderbilt, formerly the Office of Technology Transfer and Enterprise Development, is expanding its services to accommodate the growing needs of Vanderbilt researchers.
"Our role is to assist university inventors in their goal of transferring inventions to the marketplace where they can have a positive impact on society," said Alan Bentley, who was named assistant vice chancellor of Technology Transfer and Intellectual Property Development earlier this year.
"As the Vanderbilt research engine expands, the breadth of our expertise and capabilities will allow us to keep pace and meet demand for commercialization support," said Bentley, former director of Commercialization for Cleveland Clinic Innovations with the Cleveland Clinic Foundation.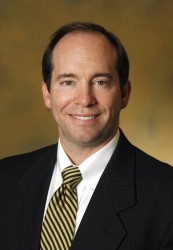 By the end of the year, the office will have increased its licensing staff from four to nine professionals, reinstated the communications coordinator position and created the director of licensing position.
"We have expanded substantially over the past few months," Bentley said, "creating an excellent mix of talented, experienced licensing professionals with a broad array of science, business and legal backgrounds that are well-positioned to provide exemplary commercialization services to the Vanderbilt community."
Technology transfer is a business centered on relationships with Vanderbilt's researchers. As a result of expanding its staff, CTTC has the bandwidth to focus on cultivating stronger relationships with faculty and staff through more one-on-one interactions and quicker response times.
The office has launched Tech Connect, an e-newsletter, to Vanderbilt researchers and others interested in technology transfer and is forming a faculty advisory committee to provide direction and customer perspective in the commercialization process.
To ensure clients have a clear understanding of what services CTTC provides, the office is adding structure to the existing evaluation process. The goal is to provide a transparent process that enables researchers to work effectively with CTTC staff, who will help transition their idea to the marketplace.
To provide easy access to information about CTTC and the commercialization process, a new website has been launched. The site provides information on the Vanderbilt commercialization process, IP-related policies, new technologies, news and events relevant to technology transfer, and forms and instructions needed to make a technology disclosure to the office.
CTTC encourages Vanderbilt faculty and staff to contact the office with questions about technology transfer and the Vanderbilt commercialization process at 615-343-2430 or cttc@vanderbilt.edu. Those interested in receiving Tech Connect should send an email to Tanya Ruder.
Written by Tanya Ruder, CTTC Communications Coordinator.