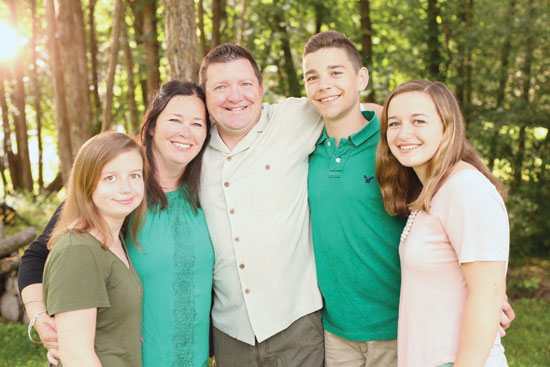 Eight years ago, the Matthews family's world was turned upside down. Kathleen and Wilson's daughter Makenzie, just shy of her 8th birthday, had been diagnosed with a brain tumor the size of a racquetball.
Within hours the Mount Juliet, Tennessee, family arrived at Vanderbilt University Medical arenter for an operation to resect the medulloblastoma from Makenzie's brain. Kathleen, Wilson, Makenzie's twin sister Madison and younger brother Justin—along with about 70 friends—anxiously gathered in a waiting room during the 12-hour surgery.
"We didn't know at that time if Makenzie was going to live," Kathleen says. "When she woke up, she couldn't see, walk or talk. The right side of her face was paralyzed, and she couldn't use her left arm. It was a terrifying time."
After the surgery, Makenzie underwent six weeks of intensive radiation therapy to her brain and spine followed by nine cycles of chemotherapy partnered with intensive occupational therapy and speech therapy.
"I have never been one to stress out, but when I was first told that I had a tumor that needed to be taken out immediately, I didn't understand what that meant and that my life was going to change forever that day," Makenzie says. "After surgery I was a different person. I wasn't myself. I wasn't 'Makenzie' for what seemed like the longest time."
As a special education teacher, Kathleen was concerned about cognitive side effects early on.
"During that first year, I brought her in to Vanderbilt for a full battery of psychological and neurological tests so I could be prepared for what kind of future we were looking at," Kathleen says.
"Nothing is simple or easy for Makenzie. But she has this great attitude about it all … She really is remarkable."
—Kathleen Matthews
Kathleen and Wilson, a LifeFlight nurse at Vanderbilt, were introduced to psychology researcher Bruce Compas about eight months after Makenzie's diagnosis. They agreed to participate in a National Cancer Institute–funded study that tracked how families cope and communicate about a child's cancer diagnosis and treatment.
"We are the kind of family who will participate in any study if we think it will help someone," Kathleen says.
Along with 125 other families, they took part in a video-recorded discussion about the challenges of coping with cancer. One thing the researchers observed was that when parents echoed and acknowledged a child's frustrations about their cancer or treatments, the child's stress levels improved. When the parent tried to push them to change their thought pattern or provide them with information, their stress levels went up.
"The Matthews family was crucial in helping us because through this work we were able to identify effective ways parents can communicate with their children who are dealing with cancer," Compas says.
"What we learned is now being used to develop a program we are going to use to help many other families facing cancer."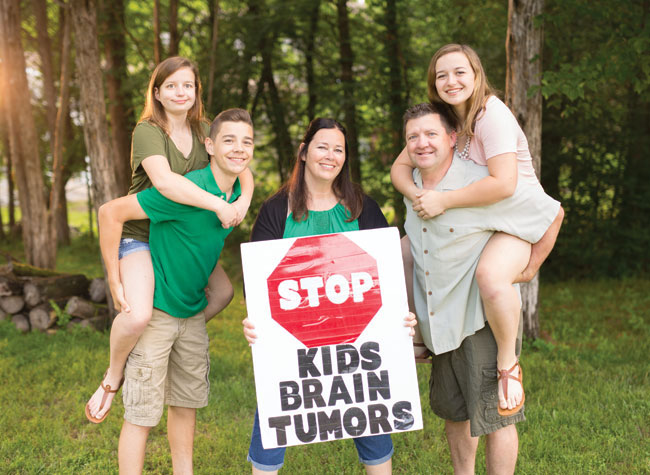 Now a rising high school senior, Makenzie has passed the crucial mark of five years cancer-free. She attends honors classes with support from an Individualized Education Program that accommodates her need for extra time to process information, complete assignments and take tests. Because she tires easily, she is allowed to keep her textbooks in the classrooms rather than carrying a heavy backpack.
"The carwash is something I do along with many others so other kids don't have to go through what I did."
—Makenzie Matthews
"Nothing is simple or easy for Makenzie," Kathleen says. "People say, 'Oh, she's cancer-free, she's all better,' but they don't understand that this kind of cancer has a lot of side effects, and she will have them for the rest of her life. But she has this great attitude about it all and is doing extremely well. She really is remarkable."
A few years ago Makenzie created an annual fundraiser, Kenzie's Carwash for a Cure. Partnering with her many friends and supporters in Mount Juliet, the effort has now raised $72,400 for the Pediatric Brain Tumor Foundation.
"The carwash is something I do along with many others so other kids don't have to go through what I did and to help find a cure for childhood brain cancer," Makenzie says.
She still has difficult days. When that happens, Makenzie listens to uplifting music and plays with her beloved dog, a Bichon named Leia, after the Star Wars character Princess Leia.
"Dogs are stress relievers, and Leia always knows when something is wrong and how to make it better and make you smile again," she says. Makenzie also turns to her biggest cheerleader, her mom.
"There are so many times where I get really overwhelmed, and when that happens, I find that the best thing for me to do is talk to someone about it," Makenzie says. "I talk to my mom because she is my biggest supporter and is always there for me and reminds me that she is always on my team."