Media Inquiries
Latest Stories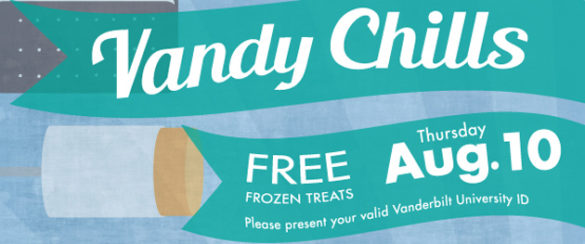 Stop by University Library Lawn today, Thursday, Aug. 10, near the Harold Stirling Vanderbilt statue to pick up a free frozen treat, or visit one of the on-campus pop-ups. There will be plenty to choose from, including dairy-free, gluten-free and no-sugar-added options.
On-campus location:
11 a.m.-3 p.m. – University Library Lawn (near the Harold Stirling Vanderbilt statue)
On-campus pop-ups:
11-11:45 a.m. – Wyatt Center/East Hall
(Under the connecting arches)
12:30-1:15 p.m. – Magnolia Circle
(Peabody, near Infant Care)
2-2:45 p.m. – Science & Engineering Building
(Lot 71, baseball parking lot)
3:30-4:15 p.m. – Baker Building
(In the alley near Qdoba)
This is a Vanderbilt University staff and faculty event, so please be sure to bring your VU ID.
Vanderbilt University Medical Center's frozen treats event will be held on a different day. Please visit the Medical Center HR website for more details.
Download a flier to post in your area.
Share the fun!
Take photos at the event and share them on Facebook, Instagram, Tumblr and Twitter using #vandychills to add to our online collection at social.vanderbilt.edu.
Questions?
Contact Human Resources or visit vu.edu/vandychills.