This Saturday, June 24, marks a great opportunity to show your pride and walk with Vanderbilt University at the 2017 Equality Walk. The event, which attracts more than 2,000 supporters annually, is a growing tradition that brings a strong cultural community together to celebrate diversity and inclusion.
Vanderbilt University is a proud sponsor of this year's Nashville Pride Festival along with Bridgestone, Nissan, Curb Records and many others. The Equality Walk and the Nashville Pride Festival help bring visibility to LGBT equality. Vanderbilt says #YAAASSSS to Nashville Pride!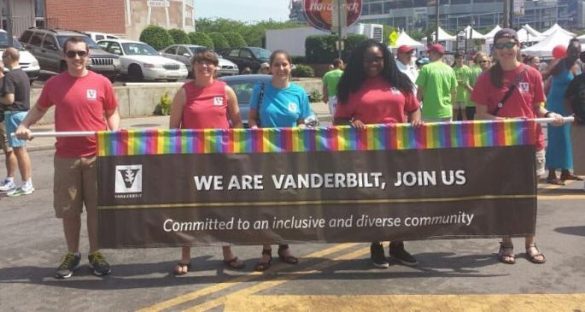 The line for the walk starts at 9 a.m. at 2nd Avenue North and Union Street, with the walk itself scheduled to begin at 10 a.m. We encourage the Vanderbilt community to wear a solid t-shirt of one of the colors from the rainbow flag: red, orange, yellow, green, blue or purple. Just look for the black-and-gold balloons and walk with us behind the university banner.
Parking will be available with special event rates at the Public Square Garage, 350 Deaderick Street.
For more information about the festival, visit Nashville Pride. For questions about the walk, email scott.glasgow@vanderbilt.edu.