High turnout for union elections, results tallied
by
Melanie Moran
Jun. 8, 2017, 9:30 AM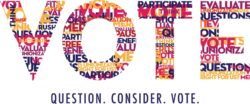 Ballots in the union elections were counted in a public proceeding by the National Labor Relations Board (NLRB) June 6. The Service Employees International Union (SEIU) Local 2015 had petitioned in February to represent full-time and adjunct nontenure-track faculty in four Vanderbilt schools and colleges.
The results were:
Blair School: 16 "yes" votes, 23 "no" votes and 23 challenged ballots. There were 79 faculty eligible to vote.
Divinity School: 1 "yes" vote, 2 "no" votes and 4 challenged ballots. There were 11 faculty eligible to vote.
Peabody College: 9 "yes" votes, 20 "no" votes and 39 challenged votes. There were 94 faculty eligible to vote.
College of Arts and Science: 55 "yes" votes, 40 "no" votes and 51 challenged ballots. There were 193 faculty eligible to vote.
With the large number of challenged votes, none of the results are final at this time. The challenges came from the NLRB, the SEIU and Vanderbilt.
During the coming weeks and months, Vanderbilt, the NLRB and the SEIU will have an opportunity to discuss—and the NLRB will decide—which of the challenged ballots will count toward the final result. The content of the individual ballots will remain secret.
The university may make subsequent challenges, objections and requests for review of the election results to ensure the election is certified in a fair and representative way. The SEIU also also make challenges with the NLRB.
"The process is far from over. But these results are an important milestone," Provost and Vice Chancellor for Academic Affairs Susan R. Wente said. "Our goal has always been to approach this election in a way that reflects our values of transparency, open communication, shared governance and collaboration. As a central part of those values, we urged eligible faculty to participate. We are very pleased by the engagement."
For more information, visit the faculty unionization website.