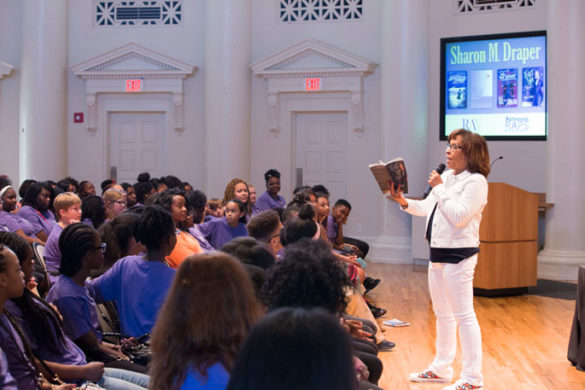 Best-selling young adult fiction writer Sharon M. Draper visited the Wyatt Center at Vanderbilt's Peabody College to motivate and inspire Nashville middle schoolers. The gathering was for students participating in the Reading Academy at Vanderbilt and Reading and Play Saturdays, two Vanderbilt reading programs funded by a generous gift from best-selling author James Patterson.
"I wish somebody had come to my school, and had said to me, you can do this, you can be this, but nobody came," Draper said. "We didn't have gifted programs. I would go to the library and check out 10 books and then I would check out 10 more and 10 more. I read and read and read."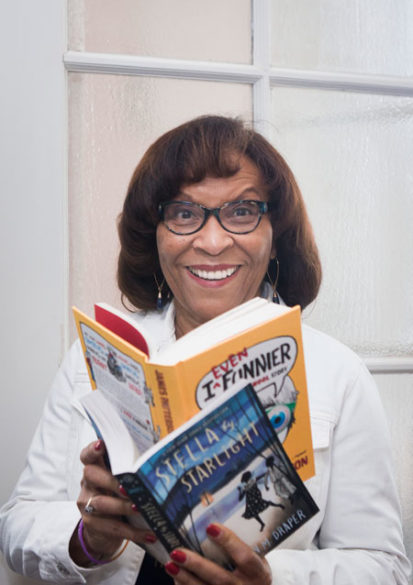 It wasn't until years later, when she was a middle school English teacher, that her writing journey began. One of her students challenged her to enter a writing contest and she won first prize and $5,000 for her short story. After that Draper began working on her first novel, "Tears of a Tiger," which was a top seller. Since then she has published a string of popular novels for middle school readers and racked up countless awards, including being honored by the White House.
Draper's novel "Out of My Mind," which centers on an 11-year-old girl who is intellectually gifted but can't communicate, was on the New York Times bestseller list for almost two years. Being the mother of a child with a disability inspired her to write the story.
"Melody is a character—not my daughter," Draper said. "But writing this story helps people see what it's like to be different and to not be able to express who you really are. It's something we can all relate to."
When asked by a student how to become a published author, she compared it to becoming a professional athlete. "The work starts when you are young. You have to practice and work hard and keep perfecting your skills. It doesn't happen over night."
Not all writers become wealthy, like James Patterson or J.K. Rowling, she emphasized. But the rewards are greater than money.
"I am not rich. But I have been able to go to China and Japan and Africa to talk about books and writing and what I love," she said. "I have always loved teaching, and I still do. When you have a gift, you have to accept the blessing and give credit and praise for the blessing, which is what it is."
Draper asked the students to raise their hand if they want to become a writer, a poet or an artist. Hands went up across the room.
"If your hand is up, repeat after me. 'I have the power,'" she said. "No one ever came to my school and said I could do it. Nobody ever told me I could do great things. But now you can remember the day when that author came and told you that you can do anything. Now you have the power."
The students in attendance are participants of one of the following programs, both funded by Patterson.
More about Reading Academy at Vanderbilt
The Reading Academy at Vanderbilt (RAV) is a program offered through Vanderbilt Programs for Talented Youth (PTY). RAV partners Vanderbilt staff and faculty from Programs for Talented Youth with Creswell Middle School, a Title I school in Metro Nashville. Students scoring in the top 20 percent in reading/language arts at Creswell participate in RAV to further develop their reading and writing skills. The four main goals of RAV are (1) to develop students' abilities to critically analyze texts; (2) to provide students the opportunity to own books; (3) to promote students' love of reading; and (4) to support literacy teachers through professional development opportunities at Vanderbilt and coaching in the school. Students participate in RAV in the school and at Vanderbilt.
More about Read and Play Saturdays & Schools
Read and Play Saturday & Schools (RAPS) is a reading program for Nashville middle school students. RAPS staff members work to bring books to life, allow students to express themselves, engage with the Vanderbilt and Nashville communities, and experience books in a more meaningful way. This year RAPS moved from the Vanderbilt campus into four MNPS middle schools with great success in the before- and after-school book clubs.