Vanderbilt Chancellor Nicholas S. Zeppos awarded the top scholars from each of the university's undergraduate and professional schools with Founder's Medals during Commencement on Friday, May 12.
Since 1877, a gold medal has been awarded annually to the top graduating student from each school in honor of founder Cornelius Vanderbilt, who endowed the awards. Vanderbilt's 2017 Founder's Medalists are: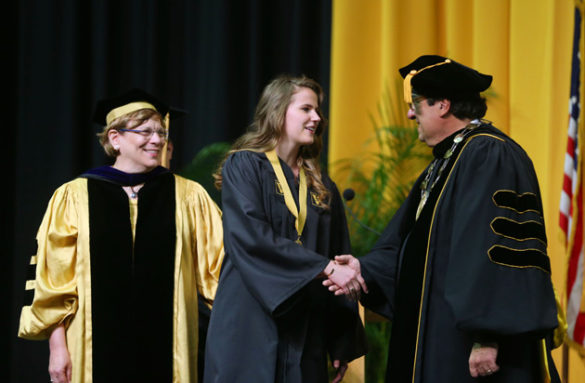 Amanda Rose Jurewicz, from Royersford, Pennsylvania, is Founder's Medalist for the College of Arts and Science and is graduating with a bachelor of arts. An honors seminar in which Jurewicz gained insight into the unique challenges faced by Malaysian students at Vanderbilt piqued her interest in reaching underserved populations through her future medical career. She has been active in Vanderbilt Student Volunteers for Science, eventually becoming co-president, and helped to make VSVS one of the largest and most effective student organizations on campus. Jurewicz is a recipient of the Russell Lee Rua Honor Scholarship and the Cornelius Vanderbilt Scholarship. She is a member of the premedical honor society Alpha Epsilon Delta. After graduating Phi Beta Kappa with a major in molecular and cellular biology and a minor in French, she plans to pursue an M.D. and an MBA. Her ultimate goal is to be a physician who incorporates outreach to underserved French-speaking communities into her practice.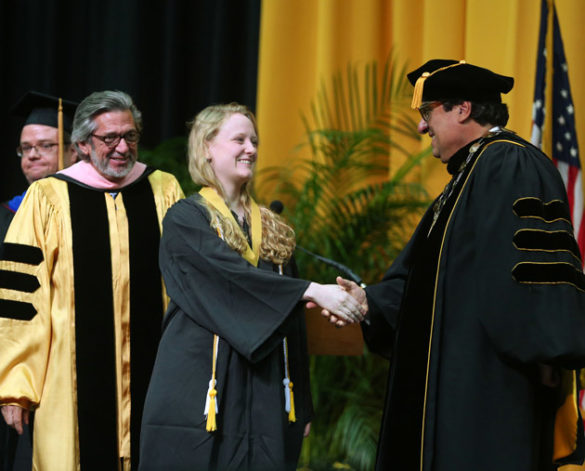 Mary Grace Johnson, from Murfreesboro, Tennessee, is Founder's Medalist for the Blair School of Music and is graduating with a bachelor of music. A Cornelius Vanderbilt Scholar and an accomplished violinist, Johnson won the 2017 Music Teachers National Association Young Artist Competition held in Baltimore, as well as the 2016 Vanderbilt Concerto Competition. She has performed as a soloist with the Nashville Symphony and as concertmaster of the Vanderbilt University Orchestra. In 2016, she was the featured performer at Vanderbilt Commencement. Johnson is the sixth of nine siblings, almost all of whom have pursued music professionally to some degree. Her parents also play instruments, and her father, a pianist, was influential in developing her love of music. Johnson is passionate about teaching and has volunteered at the W. O. Smith Music School since 2014, in addition to maintaining a private teaching studio and coaching precollege chamber music groups at Blair. She has been a resident adviser at Vanderbilt since 2014 and has organized and performed in informal Blair concerts in the residence halls. This fall, she will move to New York to pursue her master's degree in violin performance at the Juilliard School.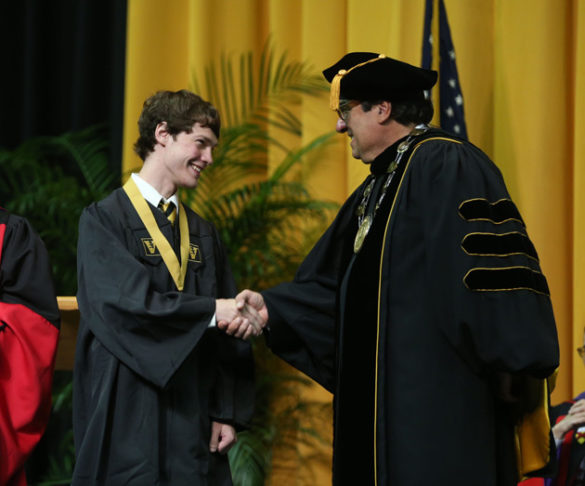 Duncan Matthew Morgan, from Woodstock, Georgia, is Founder's Medalist for the School of Engineering and is graduating with a bachelor of engineering in chemical engineering, chemistry and mathematics. Morgan's research at Vanderbilt has focused on the engineering of thin film coatings to improve the efficacy of vaccines. He plans to expand his research in graduate school, designing new medical technologies, therapies and diagnostic techniques. Morgan's favorite Vanderbilt experiences include his leadership of the Vanderbilt Quiz Bowl, which organizes trivia tournaments for high school teams, and his two Alternative Spring Break service trips. Junior year he traveled to Saint Paul, Minnesota, to work on a project addressing the needs of the Tibetan-American community there, and senior year he worked in St. Louis with Lifebridge Partnership, an organization that helps people with physical and intellectual disabilities to actively participate in their communities. Morgan has been awarded a National Science Foundation Graduate Research Fellowship, and this fall he will begin work on a doctorate in chemical engineering at the Massachusetts Institute of Technology.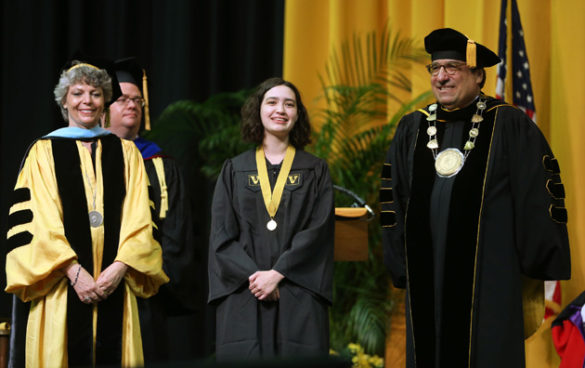 Lauren Somers Heyano, from Anchorage, Alaska, is Founder's Medalist for Peabody College and is graduating with a bachelor of science. Heyano said her participation in a Vanderbilt course titled Children in Families and Schools, in which she was part of a diverse community of classmates, helped her form the insight that there are many ways to do good in the world. While at Vanderbilt, she pursued her passion for doing good through volunteer work and other learning opportunities that focused on social justice, health and education. She founded the Vanderbilt Association of Introverts, a student organization dedicated to appreciating and exploring introversion, and thereby created not only a way to feel less alone as an introvert herself, but also a place where other introverts were seen and valued. Heyano is a Cornelius Vanderbilt Scholar and graduates with a major in child studies. A first-generation college graduate, she plans to return to her home state to pursue opportunities in writing and in the nonprofit sector.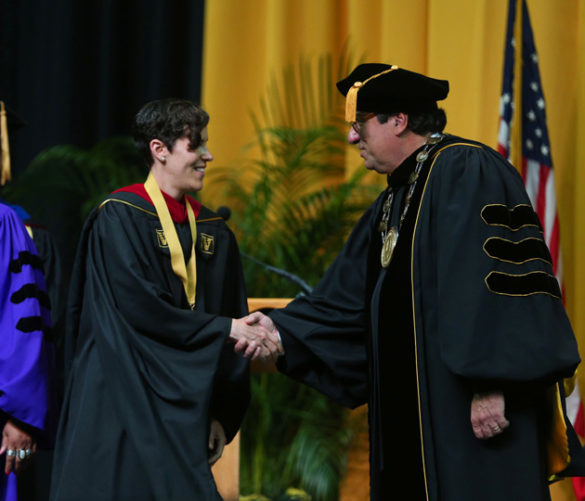 Dorothy Elizabeth Parks-Piatt, from Chattanooga, Tennessee, is Founder's Medalist for the Divinity School and is graduating with a master of divinity. A Harold Stirling Vanderbilt Scholar pursuing ordination in the Presbyterian Church (USA), Parks-Piatt bridged her academic and pastoral interests as an Arcus Foundation Justice Through Engagement researcher and pastoral intern at Second Presbyterian Church in Nashville. Her contributions focused specifically on faith-based communal learning and social action at the intersections of religion, race, class, gender and sexuality. Among other service commitments, Parks-Piatt served on the Divinity School's worship committee; participated in a prison ministry program on death row at Riverbend Maximum Security Institute; was involved in Nashville's faith working group, "Showing Up for Racial Justice"; provided trauma-informed care for young men in state custody as a residential specialist at Monroe Harding, Inc.; and participated in the Vanderbilt chapter of the Presbyterian Church (USA) Company of New Pastors. She has accepted a pastoral call to the Resident Ministry Program at First Presbyterian Church in Ann Arbor, Michigan.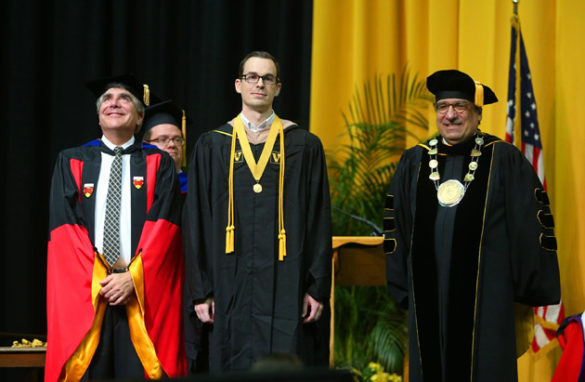 Aaron Jackson Dorn, from Nashville, Tennessee, is Founder's Medalist for the Owen Graduate School of Management and is graduating with a master of business administration. Before coming to Vanderbilt, Dorn was a co-founder and senior leader at a commercial bank in Nashville. He left that executive role to attend Owen, with the goal of launching his own company while earning an MBA. Previously deployed by the United States Marine Corps to Afghanistan in support of Operation Enduring Freedom, Dorn benefitted from the support of the GI Bill and the Yellow Ribbon program, as well as Vanderbilt scholarship donors. He is a recipient of the E. Bronson Ingram Scholarship. The MBA program's entrepreneurship curriculum helped Dorn move toward his goal, and he completed a series of independent studies and received the Bruce D. Henderson Scholarship for attaining highest honors in his first year. In March, he successfully raised the necessary capital for his new venture in Nashville's banking industry, recruited a startup team and launched his company. After graduation, Dorn will remain in Nashville as president and CEO of the company he created.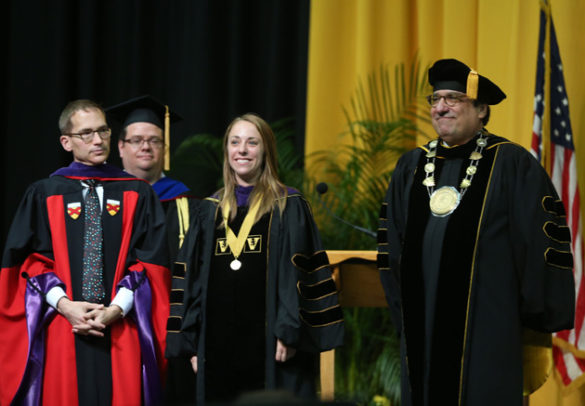 Laura Elizabeth Dolbow, from Alpharetta, Georgia, is Founder's Medalist for the Law School and is graduating with a doctor of jurisprudence. Dolbow excelled in her legal studies throughout her time at Vanderbilt. She was the recipient of the Archie B. Martin Memorial Prize for Scholarship for the highest scholastic average after the first year, the Robert F. Jackson Memorial Prize for the highest scholastic average after the second year, and the Morgan Prize for the outstanding piece of student writing for the Vanderbilt Law Review, for which she served as senior articles editor. She was named a Dean's Scholar, a Thomas R. McCoy Scholar, and an Ethel and Cecil Roberts Scholar. She served as director of the Street Law program and participated in the Legal Aid Society. After graduation, Dolbow will clerk in 2017 for Judge Timothy Dyk, U.S. Court of Appeals for the Federal Circuit, in Washington, D.C., followed in 2018 by a clerkship with Judge Judith Rogers, U.S. Court of Appeals for the D.C. Circuit.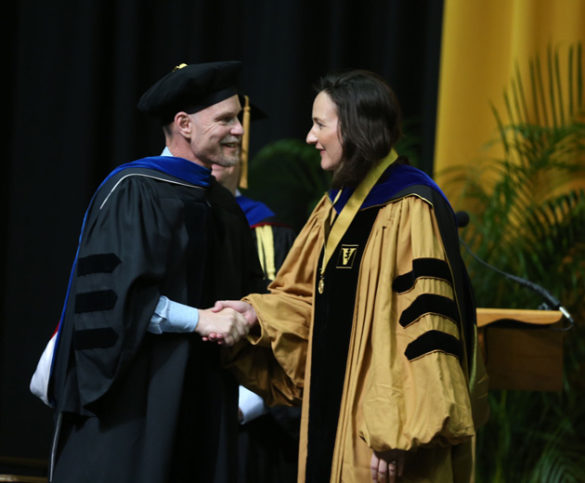 Emily Alden Hennessy, from Red Hook, New York, is Founder's Medalist for the Graduate School and is graduating with a doctor of philosophy in community research and action. As a Fulbright Scholar studying in Norway, Hennessy began to reshape and broaden how she defined health and came to realize how settings—homes, neighborhoods, schools, communities—could foster or impede health. She continued her studies at Vanderbilt to better understand how people and their contexts interact to produce high—or low—life quality and how research and better programming could positively intervene. In the course of her studies, she has authored 12 peer-reviewed publications and three book chapters on adolescent health behaviors. She received an award from the James N. Morgan Fund for New Directions in the Analysis of Complex Interactions to fund her dissertation, which combined the study of adolescent addiction with her quantitative expertise. In June, Hennessy begins a postdoctoral fellowship with the Systematic Health Action Research Program lab at the University of Connecticut, where she will collaborate on projects related to health behavior.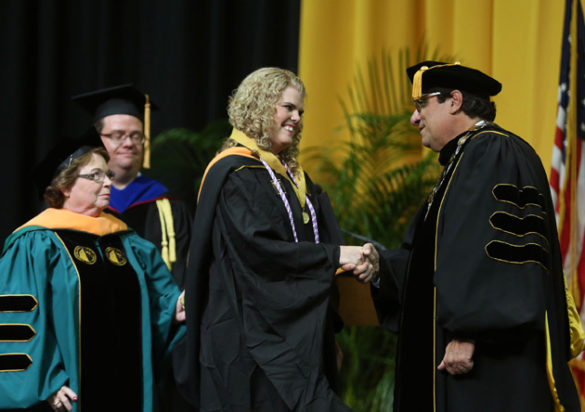 Beverly Michelle Padgett, from Portland, Tennessee, is Founder's Medalist for the School of Nursing and is graduating with a master of science in nursing. Padgett graduated magna cum laude from Tennessee State University in 1997 and spent more than 15 years as a registered nurse at Vanderbilt University Medical Center. Padgett said she found returning to school for her master's degree challenging, but her courses and clinical study helped her to discover a new passion and direction—to be a nursing leader. During practicums at VUMC, she researched and developed nurse retention plans and patient post-discharge models that the Medical Center later implemented. Her quality-improvement research for a nurse residency program improved participation and reduced the program's cost. Currently, Padgett works in VUMC's Nursing Education and Professional Development office and plans to pursue further leadership positions and perhaps a doctor of nursing practice degree.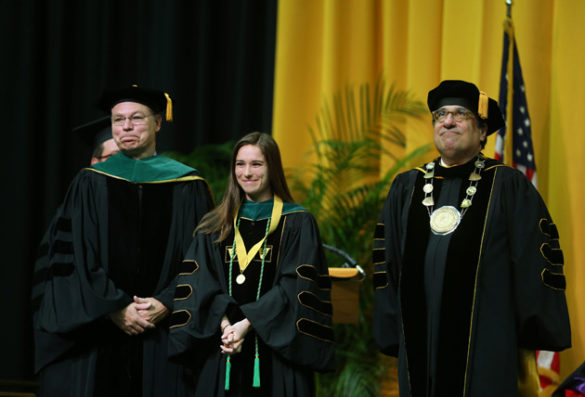 Samantha Gridley Haley, from Milton, Georgia, is Founder's Medalist for the School of Medicine and is graduating with a doctor of medicine and a certificate in LGBT health. Haley entered medical school with a bachelor's in English and an interest in social and behavioral determinants of health, but it was during her medical school rotation in adolescent medicine that she found her niche. Through this field—which combines primary care, sexual health and mental health—she plans to care for patients at an age when they are molding their self-identity and making choices that can cement into lifelong habits. She has a special interest in providing compassionate, equitable care for LGBT youth. As a medical student, she served as a fellow of the Cal Turner Program for Moral Leadership in the Professions, completed the Vanderbilt Program for Interprofessional Learning and led numerous student organizations. Her research on barriers to health care for transgender youth earned her the Society for Pediatric Research Student Research Award, which is granted to three medical students each year. Haley also published multiple award-winning essays as a medical student and was inducted into both Alpha Omega Alpha and the Gold Humanism Honor Society. She plans to complete her pediatric residency at Seattle Children's Hospital and then pursue fellowship training in adolescent medicine.