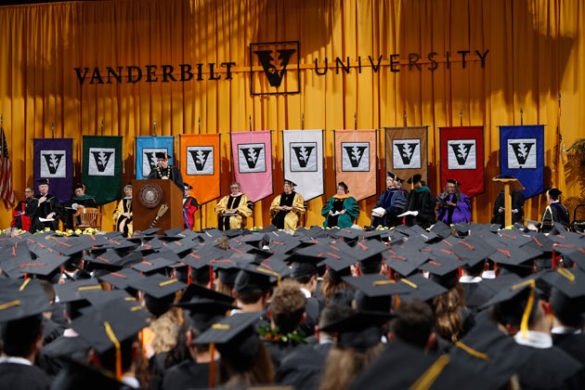 Chancellor Nicholas S. Zeppos today reminded graduates at Vanderbilt's Commencement that the university, the faculty and their classmates will continue to have an enduring influence on their lives.
"Vanderbilt is the connective tissue that holds us together. Vanderbilt is the gravitational force that pulled you here to study and learn, and now to celebrate," he said during his Commencement address. "You entered as a diverse group of talented individuals, and we send you out as a community of learned citizens whose shared experience at Vanderbilt — through Vanderbilt — is a lifelong connection."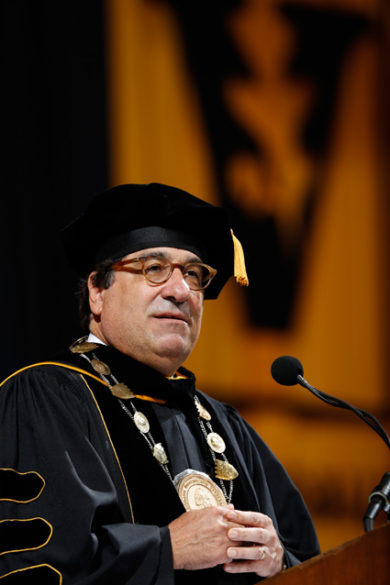 The pride Zeppos felt in the nearly 4,000 graduating students radiated through the gym during the ceremony. "Today we celebrate the achievements of Vanderbilt's graduates, their hopes, their dreams, and the immeasurable impact they will have in the wider world," he said in his welcome to the thousands of family and friends in the audience.
The ceremony opened with the recognition of 32 retiring faculty members who have attained emeriti status. Vice Chancellor for Academic Affairs and Provost Susan R. Wente presented the 2017 Founder's Medals, given to the top scholars from each of the university's 10 colleges and schools. Zeppos also recognized New York businessman and Vanderbilt Law School alumnus Mark F. Dalton, who is stepping down after 15 years of service on the Board of Trust, including the last six as the board's chairman. Dalton will become a trustee emeritus.
Zeppos continued the theme of connection in his speech, telling the crowd a story of Harold Stirling Vanderbilt, great-grandson of university founder Cornelius Vanderbilt, and law student John Brancato. Harold Vanderbilt, whose ancestors came to America from Holland in the 1600s, was a titan of industry and phenomenally wealthy. Brancato came from modest means, and his American roots were only a few decades deep, as his family came to the United States from Italy in 1903.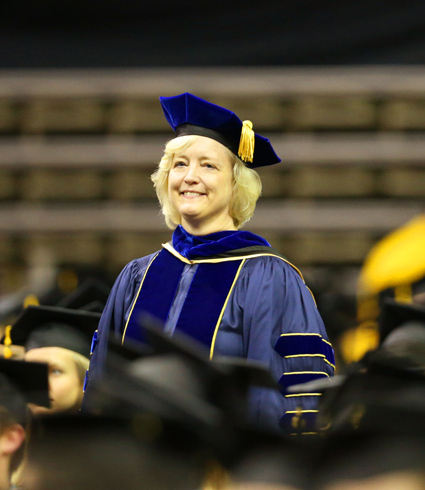 Vanderbilt became involved in his great-grandfather's university, serving as president of the Board of Trust from 1955 to 1968. One day in the mid-1960s, he was in Kirkland Hall to meet with then-Chancellor Alexander Heard. The two were discussing Ford Foundation funding to the Vanderbilt Law School for a study on racial integration. Heard called over to the law school for a copy of the report, and Brancato was dispatched to deliver it.
Zeppos told the story of their meeting:
"Chancellor Heard said, 'Mr. Brancato, do you know who this is?' Unruffled, John said, 'Indeed I do know who Mr. Vanderbilt is. And I am deeply grateful to him and his family for making it possible for me to study law here.' Brancato then walked over to Mr. Vanderbilt, extended his hand, looked into Harold's eyes, and with Harold's hand firmly in his grasp continued, 'Sir, many years ago, my grandfather came to America. Your ancestors and mine built the railroads of our nation together!'
"Harold's ancestors were the owners of the railroad, executives who harnessed huge amounts of capital and engaged in fierce battles of high finance and drama. John's ancestors were the laborers who cleared the land, built the beds, laid the track, and worked in the yards.
"Yet here they were together on our campus, one the appreciative student, one the board president and benefactor. John had somehow, with the outreach of his hand and finding of common effort, traversed the vast chasms that seemingly existed between him and Mr. Vanderbilt.
"As Harold took John's hand in his own, he saw before him the living, breathing personification of his great-grandfather Cornelius' dream of a university that through education would promote healing and the forward progress of our country. For Harold, it became clear: Vanderbilt University was not a family business legacy, like the New York Central, but a powerful locomotive driving human transformation for the better."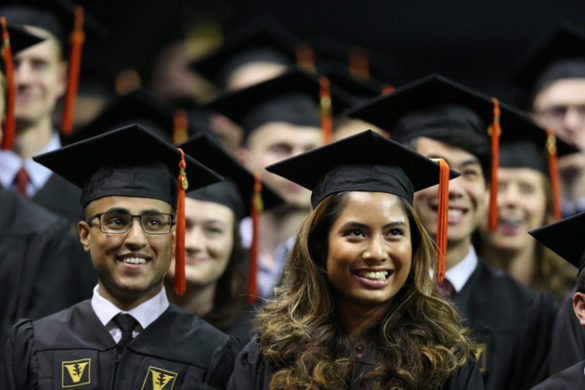 Brancato went on to earn his law degree in 1967 and spent his career in the Air Force, retiring as counsel to special forces at the rank of colonel. He died in 2007, and his wife, daughter and granddaughter attended today's Commencement.
Zeppos sent the new graduates into the world, wishing them "safe sailing and worthy trophies."
"You have been connected in many ways, intentional and unpredictable," he said. "I hope you will find a way to serve and remain Vanderbilt for life."