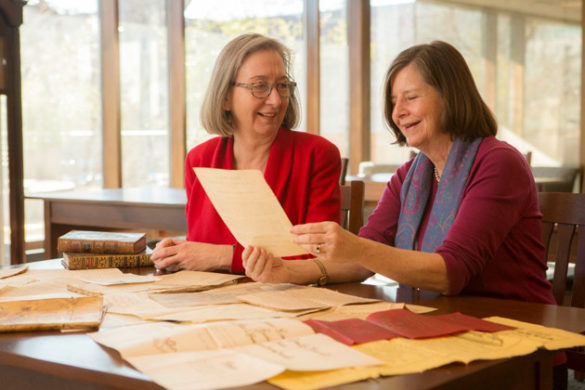 Some 300 boxes containing the rarest and earliest portions of the J. León Helguera Collection of Colombiana, which documents centuries of Colombian political, economic and social history, have been acquired by Vanderbilt Libraries.
"This significant addition to our Latin American holdings, combined with an earlier collection from Professor Helguera and the Manuel Zapata Olivella papers, insures Vanderbilt's position as a global destination for Colombian scholarship," said University Librarian Valerie Hotchkiss.
Helguera was a professor of history, emeritus, at Vanderbilt who devoted much of his life to collecting and preserving Colombian antiquarian books, pamphlets, newspapers, broadsides and other materials dating from 1831. He had first traveled to Colombia while working on his dissertation in 1953. Thanks to his hard work and generous contributions to Vanderbilt through the years, Special Collections already had an impressive collection of Colombian materials.
"We have a treasure trove of rich material for scholars of Colombia's colonial era, meaning not just on Colombia, but also other future nations that once were part of the kingdom of Nueva Granada—Panama, Ecuador, Venezuela, Colombia and even its neighbor, Peru," said Paula Covington, Latin American bibliographer and senior lecturer at Vanderbilt's Center for Latin American Studies.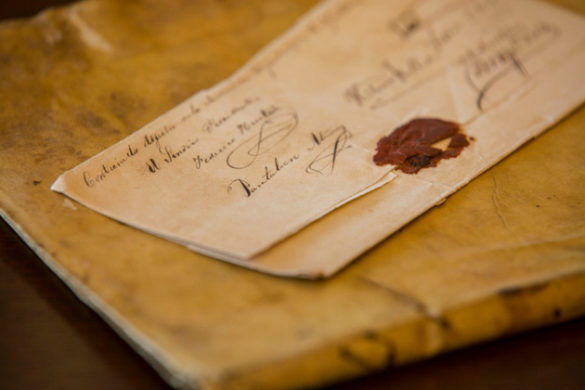 Secret military letters written in code, proclamations by General Simon Bolívar urging independence from Spain, and even a notice of a tightrope walker who braved the Niagara Falls and planned to cross Colombia's Tequendama Falls are among the items found in this diverse collection, which covers 18th- to 20th-century materials. Some of the collection dates from Colombia's pre-independence from Spain and spans the later nation-building era, reflecting colonial attitudes toward the Spanish empire, Spain's efforts to hold onto Latin America, and the Wars of Independence.
Helguera collected some of the earliest books printed in cities throughout Gran Colombia, including Santa Marta, the earliest city in the Americas; pre-independence royal decrees demanding loyalty to the crown; and maps documenting military campaign plans. He also acquired correspondence that was sent to Tomás Cipriano de Mosquera, a famed four-term Colombian president who opposed the political power of the church. In addition, there are passports in the collection detailing Mosquera's travels to Europe and the United States when he served as a diplomatic agent.
Helguera also documented social life in the 1800s through opera and circus announcements, scrapbooks and letters.
Malcolm Deas, a scholar at Oxford University, has described the Helguera Collection as "the finest collection of Colombiana outside the country, and one which includes a good number of items not available in Colombia."
Helguera, who died in 2015, devoted numerous hours to sifting through and researching piles of fragile documents, according to a 2003 article in the Acorn Chronicle. The article noted that he was eager to share the credit for his success in acquiring and preserving so many "precious bits and pieces of printed history." In addition to Colombia, he purchased materials in Caracas, Lima and Buenos Aires, as well as from bookshops and sellers in London, Vienna, Sevilla, Madrid and New York City. He had strong friendships with members of the Arboleda and Mosquera families, among others.
This semester Andrea Delgado and Jessica Fletcher— as Library Fellows and graduate students in Latin American Studies— have been sifting through materials from the Helguera Collection to digitize and make them available to a larger group of scholars. They are also writing essays for an online exhibit on key themes relating to Colombian independence and nation-building.
Meanwhile, Theodora Saclarides, another Library Fellow who is earning a master's in Latin American Studies, assists students in a research seminar taught by Covington and Frank Robinson. The class is preparing an interactive exhibit on the movement of peoples to the New World to highlight the library's rarer Latin American materials.
These projects offer just a glimpse of the cross-disciplinary research and keen engagement with Latin American studies that will be available to Vanderbilt students, faculty and visiting scholars, thanks to Helguera's passion for preserving Colombia's past.