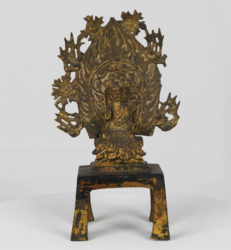 The study of duplication in Chinese sculpture from ancient times to the present is the focus of a lecture by Stanley Abe at Vanderbilt's Cohen Hall March 23.
Abe, associate professor of art and art history at Duke University, will deliver the Norman L. and Roselea J. Goldberg Lecture in Art History at 4:10 p.m. in Room 203. A reception in the Cohen atrium will follow Abe's talk.
"In China, identical sets of figures, serial images, replications in archaic styles, and later copies were produced over a long period of time," Abe said. "New works were provided with ancient inscriptions; old objects could be inscribed anew. In modern times, forgeries meant to deceive collectors proliferated."
Abe has published on Chinese Buddhist art, contemporary Chinese art, Asian American art, abstract expressionism and the collecting of Chinese sculpture. He is now writing a narrative account of how Chinese sculpture came into existence as a category of "fine art" during the late-19th and early-20th centuries.
"The study of duplication suggests a way to understand the history of Chinese sculpture as more than a series of unique masterpieces," Abe said. "However, attention to duplication raises many questions and issues for further study."
Abe received the Shimada Prize for Ordinary Images (University of Chicago Press, 2002), a richly illustrated book that explores the large body of sculpture, paintings and other religious imagery produced for China's common classes from the third to the sixth centuries CE. The Shimada Prize is awarded for distinguished scholarship in the history of East Asian art by the Freer Gallery of Art and Arthur M. Sackler Gallery and by The Metropolitan Center for Far Eastern Art Studies in Kyoto, Japan.
Sponsored by the Department of History of Art, the Goldberg Lecture is free and open to the public. Parking is available in Lot 95 outside of Cohen Hall. For more information, call the department at 615-322-2831.
Fay Renardson contributed to this story.