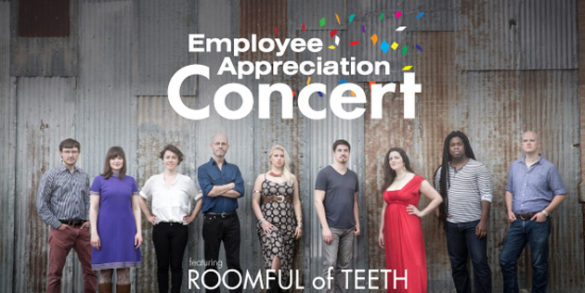 Vanderbilt University employees and their guests are invited to feast their ears on the unique sounds of Grammy Award-winning a cappella group Roomful of Teeth March 15, when the group performs at Ingram Hall as part of the Blair School of Music Spring Concert Series. An employee-exclusive pre-concert reception begins at 7 p.m., with the concert following at 8 p.m.
Roomful of Teeth is influenced by singing styles from around the world, including throat singing, yodeling, belting, Korean P'ansori, Georgian, Hindustani, Persian classical and more. Critics have described the group's music as "hypnotic and intensely moving," "a high-energy blend of stylistic influences including reggae, hip hop and rock," and "like a glee club, but cool in a really nerdy way."
The pre-concert reception is open to VU employees only. Registration is required using the form found at vu.edu/hr-concert. Complimentary parking is available in the West Garage, located at 2500 Children's Way. Enter the garage through the Children's Way entrance.
For more information, visit vu.edu/hr-concert.