Mark Wallace shares the state and future of graduate education in series of presentations around campus
by
Liz Entman
Feb. 16, 2017, 11:47 AM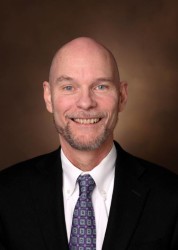 Mark Wallace, Dean of the Graduate School, announced a series of presentations to be held starting next week to update the campus on the state of graduate education in the United States and how Vanderbilt is leading the way in re-envisioning the role and goals of a graduate school in the 21st century.
Wallace's talks will be based on a strategic planning session that Wallace, Provost Susan R. Wente, and Chancellor Nicholas S. Zeppos held during the February Board of Trust meeting. The trustees, deans, faculty, and graduate students discussed the diversity and strength of Vanderbilt doctoral programs across the humanities, social sciences, biological and biomedical sciences, physical sciences, math and engineering.
"This will be a great opportunity for our faculty and students to hear directly from Dean Wallace about the strategic enhancements and investments we have made in Ph.D. education at Vanderbilt, as well as learn about the additional resources that are available to graduate students to help position them for success," Wente said.
With the most recent report, titled "A New Vision in Graduate Education" and Wallace's appointment in 2016, multiple innovations have been launched in collaboration with the other schools and colleges, the Graduate Student Council, and the Graduate Faculty Council. "The future requires a new strategy," said Wallace. "Our newly minted Ph.Ds are highly desirable leaders in many facets of our global economy. Through direct mentorship by faculty and career development resources, we are preparing our graduates to excel in both the private and public sector in whatever fields they choose."
Wallace will highlight how Vanderbilt has increased access to underrepresented minorities and is building a stronger, more cohesive graduate school community. This includes the new central office in Alumni Hall as well as the Graduate Readings program. The discussions will also focus on what's next for Vanderbilt, including the planning of dedicated graduate student housing, expanding joint degree programs and developing a broader network of research partnerships with other elite universities.
The sessions will also offer the opportunity for Q&A. Dates and times will be finalized shortly and will appear on the Graduate School website.