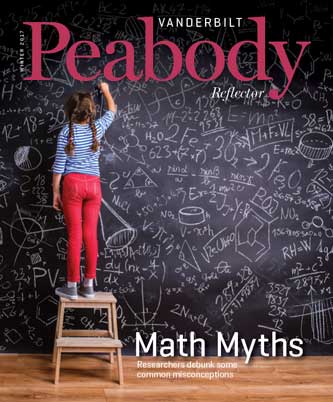 The Peabody Reflector is published twice annually, in January and July, by Vanderbilt Peabody College of education and human development in cooperation with Vanderbilt University News and Communications, 2100 West End Ave. Suite 1100, Nashville, TN  37203.
It is produced by Vanderbilt's Creative Services and Printing Services, and University Web Communications provides online support.
The magazine is mailed free of charge to all Peabody alumni, parents of current Peabody students and to friends of Peabody who make gifts to the college at a certain level.
Correspondence, including letters to the editor and Class Notes submissions, should be mailed to: The Peabody Reflector, Office of News and Communications, PMB 357737, 2301 Vanderbilt Place, Nashville, TN 37235-7737 or by email to reflector@vanderbilt.edu.
Editor: Joan Brasher
Art Director: Donna Pritchett
Designer: Jenni Ohnstad
Class Notes Editor: Bonnie Arant Ertelt, BS'81
Cover photo by Halfpoint/iStock
Contributors: Camilla P. Benbow, Kurt Brobeck, Shelley DuBois, Jane Sevier, Phillip Tucker
Photographers: Daniel Dubois, Steve Green, Joe Howell, Anne Rayner, John Russell, Susan Urmy