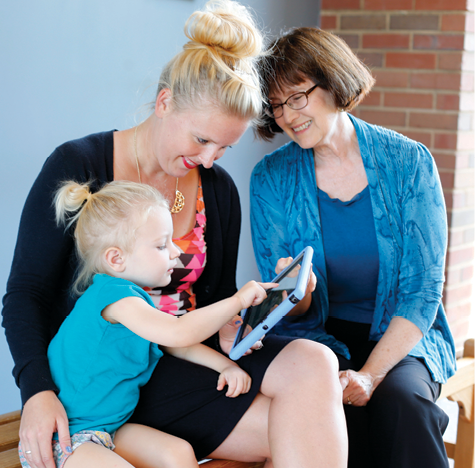 Most nights find exhausted parents cuddling up with their young children to read books before bed. Whether it's a hasty run-through of Goodnight, Moon or a deeper dive into Where the Wild Things Are (complete with mom or dad's silly voices), parents feel good knowing they are helping their child build a foundation for early language and literacy, which supports a lifetime of learning.
But research at Peabody shows that children could be developing language and literacy skills at a significantly higher rate if parents tapped into a simple, powerful technique called dialogic questioning. Dialogic questioning isn't difficult to do, according to developmental psychologist Georgene Troseth. Instead of reading the story straight through, the parent pauses occasionally to ask their child open-ended questions and engage in dialogue before moving on.
"In dialogic questioning, you are exposing children to more words, which is important," Troseth said. "But what is even more important is that you are asking the child to think about context and form inferences. When you ask them, 'What's going to happen next?' or 'Why do you think that happened?' you are encouraging a deeper understanding and mastery of language that wouldn't have happened otherwise."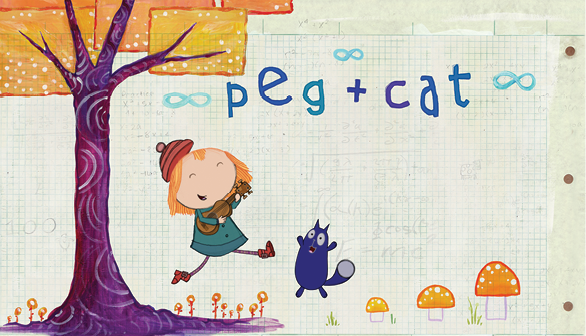 Teaching parents to use dialogic questioning
Now, with her colleagues at the Vanderbilt Early Development Lab, Troseth is taking dialogic questioning to the next level by developing a special ebook based on the Emmy Award-winning PBS show Peg + Cat. The collaboration came about in part through doctoral student Colleen Russo Johnson's connection with show creator Jennifer Oxley and producer Cathy Droz at The Fred Rogers Company.
"We went into this partnership with the idea that we wanted to create something that would empower parents," Russo Johnson said. "We wanted to get them out of the mindset that the primary goal was to get to the end of the book. We hoped they would start using reading time with their children to connect, to engage and ask deeper questions that relate back to the child's own life. Even if they didn't finish the book, their time would be more rewarding and beneficial."
"With the Peg + Cat show, as well as the books, web games and music, children seem to get more out of the experience when it's shared with their parents," Oxley says.
Co-creator Billy Aronson adds, "When the stories are shared by the whole family, they become part of an ongoing dialogue and become part of the kids' lives."
Interacting with an animated avatar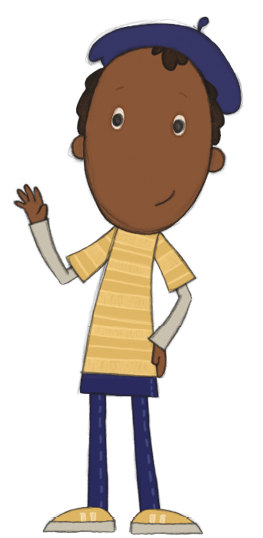 For the Peg + Cat ebook prototype, Troseth, Russo Johnson and Gabrielle Strouse, PhD'11 (now an assistant professor at the University of South Dakota) chose to feature an interactive avatar, a character named Ramone (right), who appears frequently on screen to suggest questions for parents to engage the child in a deeper discussion as the story goes along.
In one sequence, the main character Peg talks about the concept of height. After Peg explains what the word "height" means, Ramone appears and asks, "Who is taller? Peg or Cat?" That opens an opportunity for parent and child to talk about height as it relates to their family members.
Another unique feature is a coffee cup icon that is visible on each page. When the parent clicks on it, Ramone prompts additional discussion points. For example, when Cat is riding on Peg's shoulders, Ramone prompts the parent, "You could talk about what it's like to ride on someone's shoulders."
While testing the prototype, the researchers found that many parents were surprisingly unaware that their interaction was so important and were glad to have Ramone on hand to encourage them to become more engaged. "I would usually repeat Ramone's question, and then I would build up to asking more questions," one parent commented.
Quantity plus quality
The researchers found that during the reading session, the parents using the prototype with the Ramone character and the coffee cup icon exchanged 800 or more words with their children, compared to fewer than 200 words exchanged between parents and children who read the ebook without prompts.
In follow-up work, Troseth and colleagues want to give families a tablet containing the ebook to use for several weeks. "We predict that having the prompts in place will increase the child's story comprehension as well as vocabulary," Troseth said. "We believe that this concept is a powerful way to use a touch screen as a tool for language development, not just as a babysitter."
Early funding for the Peg + Cat ebook prototype came through a $10,000 grant from the Bridging the Word Gap Challenge, run by the U.S. Department of Health and Human Services' Health Resources and Services Administration. "The word gap" refers to a theory that posits children in low-income homes are exposed to about 30 million fewer words by age 3 than those in middle-income families. But Troseth says that the number of words a child hears doesn't tell the whole story.
Building language development
"We have about two decades of research backing up our thinking supporting the idea that it's not just the number of words a child hears from their parent but the activities that parents and children do together. Engaging with the child, asking what happens next, and listening to their answers—that's what brings about language development."
Troseth and her team are in talks with several organizations to continue developing the technology so that they can adapt it to other ebooks using different avatars and prompt icons. In the next phase of study, they will evaluate the impact of letting parents turn the avatar on or off as needed.
"In talking to parents, we are hearing that they are really tired at the end of the day and don't have the energy to ask questions while reading to their children," Russo Johnson said. "We hope the app helps with that, but also that this concept of dialogic questioning becomes second nature to families and isn't limited to just reading. We hope parents will engage with their children this way in lots of activities—going to the grocery store, cooking dinner together, riding in the car. It's just a great way to have quality family time and incorporate learning into everyday life."
Screens vs. Humans
This current research is based on years of study spanning a broad range of delivery methods. In Troseth and Strouse's early research, they studied the effects of kids videos like Baby Einstein, Dora the Explorer and Blue's Clues, on preschoolers' learning and found that parents are a key ingredient of success.
Their work showed that on-screen characters alone were not particularly effective in promoting cognitive development in preschoolers, even when the characters paused to ask the child questions, such as, "Do you see the blue house?"
On the other hand, when parents watched the program with their child and engaged them in dialogic questioning, the child's vocabulary and story comprehension results were significantly higher than those who watched without a parent present.
"For preschoolers, it isn't natural or easy for them to learn from screens," Troseth said. "They're going to learn a lot more if an adult is there with them, engaging them, just like you would with a book. A TV character or avatar may engage a child, but for learning purposes, nothing is as effective as a parent or caregiver."
More about Peg + Cat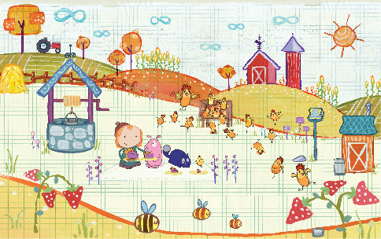 Peg + Cat is an animated math-based adventure series for preschoolers on PBS Kids. In each episode, Peg and her sidekick Cat take on a real-life problem and find a way to solve it using math.
They use song, diagrams, charts and graph paper to map out their questions and possible solutions in a quirky, comical way. Somehow, math always saves the day.
A companion website at PBSkids.org is available to keep the learning going after the program has ended.