Peabody researchers recognized at Fall Faculty Assembly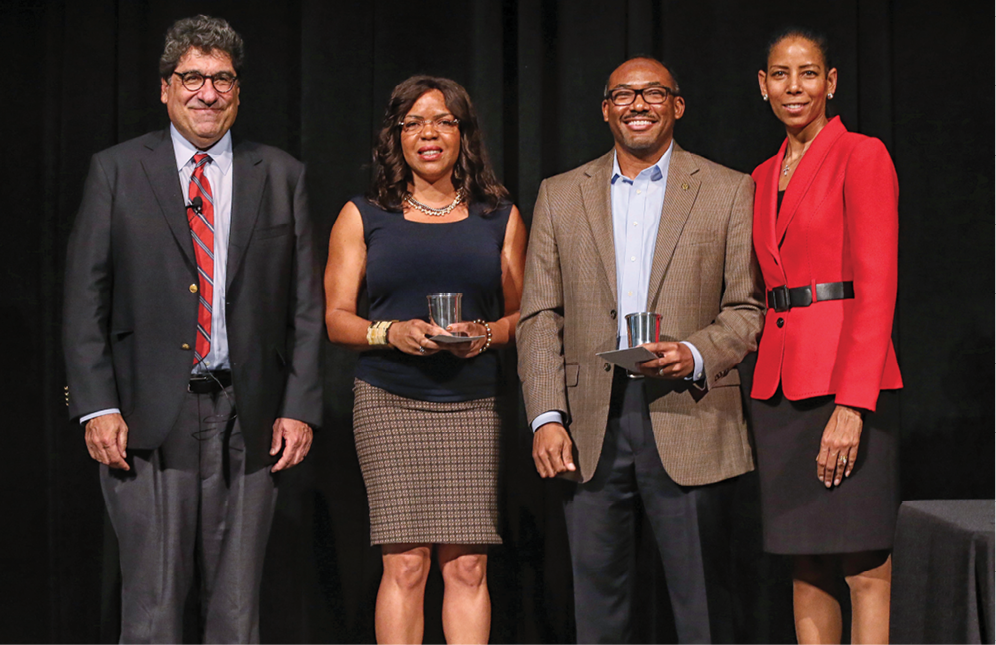 Chancellor Nicholas S. Zeppos honored several Peabody faculty at the Fall Faculty Assembly for outstanding work. Ebony McGee, assistant professor of education, diversity and STEM education, was presented a new award for excellence in equity, diversity and inclusion research to recognize her work with William H. Robinson, associate dean of Vanderbilt School of Engineering, to broaden minorities' participation in engineering. McGee and Robinson both serve on the Chancellor's Committee on Diversity, Inclusion and Community.
Marybeth Shinn, professor of human and organization development, was recognized for her co-authored report, Family Options Study: Short-Term Impacts of Housing and Services Interventions for Homeless Families, which stands as the largest experimental study assessing family homelessness interventions.
Honored for 25 years of service were Ellen Goldring, Patricia and Rodes Hart Professor of Educational Leadership and Policy; Claire Smrekar, associate professor of public policy and education; and Bahr Weiss, associate professor of psychology and human development.
Humphrey Fellows arrive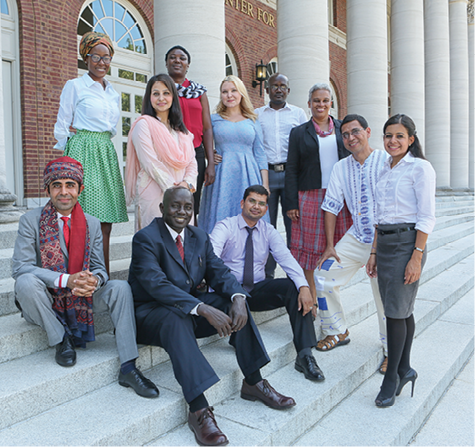 The 2016-17 Hubert H. Humphrey Fellows arrived in August. Sponsored by the U.S. Department of State's Bureau of Educational and Cultural Affairs, the Hubert H. Humphrey Fellowship Program focuses on leadership development, professional development and mutual exchange for midcareer professionals who have a commitment to leadership and service in their home countries.
New director of schools welcomed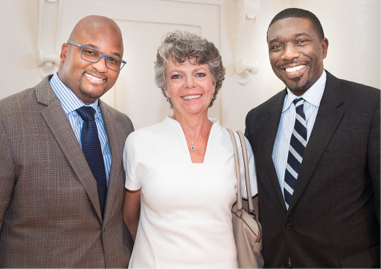 Shawn Joseph, Metro Nashville's new director of public schools, was welcomed by Peabody faculty and administration in September at a reception in the Wyatt Center rotunda.
Panel: 50 years after Coleman Report

Peabody hosted a panel discussion on how education advocates continue to address challenges 50 years after the release of the Equality of Educational Opportunity study, also known as the Coleman Report. The Oct. 27 event was held at the Frist Center for the Visual Arts.
New research partnership with TDOE launched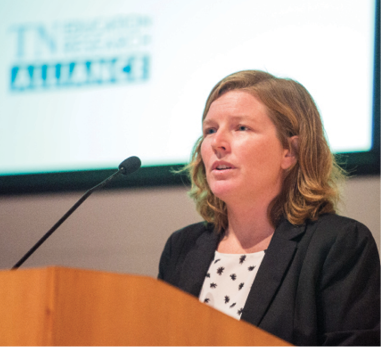 The Tennessee Education Research Alliance, a new joint venture of Peabody Research Institute and the Tennessee Department of Education, officially launched at a reception in October. The partnership aims to improve policy and practice in Tennessee's public schools. Following presentations by Dean Camilla P. Benbow; alliance director Erin O'Hara, MPP'06; and Tennessee Commissioner of Education Candice McQueen, MEd'98, a symposium featuring Peabody faculty and Chicago education experts took place.
Smith presented Chancellor's Cup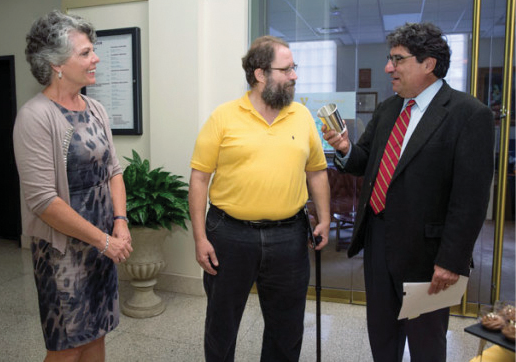 Chancellor Nicholas S. Zeppos surprised Associate Professor of Psychology Craig A. Smith with the 2016 Chancellor's Cup in October. The Chancellor's Cup has been given annually since 1963 for contributions outside the classroom to undergraduate student-faculty relationships. Smith has advocated for undergraduates in numerous ways, including serving on the Undergraduate Honor Council Board of Advisers, the Graduate School Faculty Council and many other committees.
This award was established by the Nashville alumni club known as the Nashville Vanderbilt Chapter.
Mentoring group for faculty launched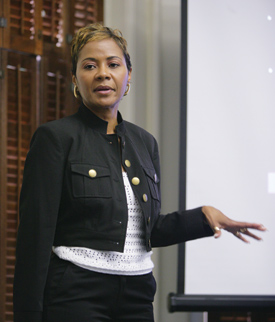 Peabody has launched R.A.C.E. (Research, Advocacy, Collaboration, Empowering), a mentoring project designed to support early-career faculty, particularly faculty of color. The program provides support in navigating aspects of faculty life, including promotion and tenure.
Donna Y. Ford (left), professor of special education at Peabody, heads the initiative, which is modeled after her online R.A.C.E. mentoring group.