VRWC offers salsa and swing dance classes
Jan. 16, 2017, 8:54 AM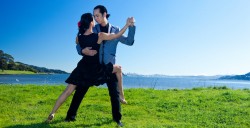 We're going to cha-cha, rumba, slide and swing this spring, and you're invited. Join us for salsa and swing dance classes starting Feb. 12 at the Vanderbilt Recreation and Wellness Center.
Have a wedding or formal event you need to prepare for? We offer private lessons, too.
The class registration deadline is Feb. 9. Learn more and register online at http://www.vanderbilt.edu/recreationandwellnesscenter/wellness/wellnessprograms.php.
For more information about dance and other programs, contact Jennifer Ray at jennifer.e.ray@vanderbilt.edu or call the Welcome Desk at 615-343-6627.
Contact: Alena Colborn, (615) 322-0811
alena.colborn@vanderbilt.edu