Celebrate your colleagues at 2016 Service Award Ceremony
Jan. 5, 2017, 8:00 AM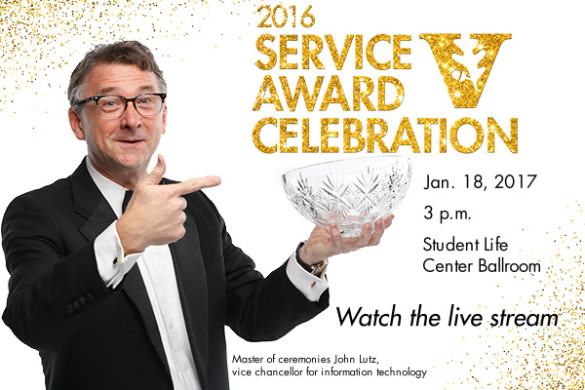 Vanderbilt University's annual Service Award Ceremony recognizes employees who celebrated significant service milestones in 2016. The recipient of this year's Commodore Award—given annually to a staff member who has made significant contributions to VU's pursuit of excellence in education, research and community service—also will be announced at the event.
You can share in the fun and congratulate your colleagues on their accomplishments by attending this year's ceremony on Jan. 18. All VU employees are invited.
2016 Service Award Ceremony
Wednesday, Jan. 18
Student Life Center Ballroom
Red carpet arrivals begin at 2:45 p.m.
The award ceremony featuring Master of Ceremonies John Lutz, vice chancellor for information technology, will begin at 3 p.m.
Can't make it to the Student Life Center? Watch the ceremony streamed live on the HR website.
For more information, contact Employee Appreciation.