Vanderbilt IT's Anne Dement recognized for 60 years of service
by
Leslie Schichtel Buchanan
Nov. 15, 2016, 2:23 PM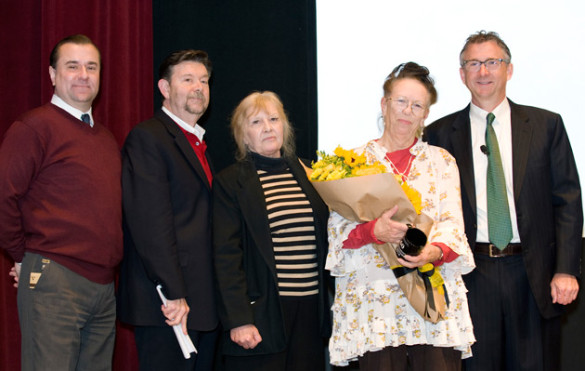 Anne Dement, a member of Vanderbilt IT's Operator Services, was recognized along with other service award honorees during VUIT's All Hands Meeting and Service Awards Celebration on Nov. 14.
As a high school graduate, Dement started working part-time at Peabody College on the switchboard as an operator in 1954. Among her normal day-to-day activities, she handled paperwork, interacted with faculty, trained student workers, and managed the accounting and repair services. In 1956, she began working full-time at Peabody and continued until Peabody College merged with Vanderbilt University in 1979.
Today, she continues to spend her time in the operating realm with VUIT. Dement has worked the night shift from 7:30 p.m. to 6 a.m. since the 1980s, and she stays in shape by walking to work every day.
"There's not a comparison between my work life at Peabody (back in the 1950s) and now with VUIT," Dement said. "It would be like going from Thomas Edison to the 22nd century in terms of equipment, phones and all of the nuances that go with it."
Though the technology has changed drastically in the past 60 years, Dement's love of Vanderbilt has not.
"There's no span of years that I can claim as my favorite. My time at Vanderbilt has been extremely interesting all the way around," she said. "I've met some really wonderful people here."
And for Dement, retirement isn't in sight.
"It's an ongoing adventure," Dement said. "You never know what's going to happen. You never can tell with technology."