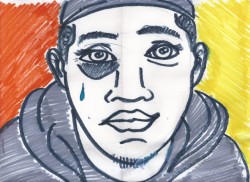 The ways in which clients at a Bronx, New York, outpatient mental health program use art therapy in their recovery process are explored in a new Vanderbilt Department of Art exhibition by one of its graduates.
"Working Through Art: Visualizing Hope and Recovery Through Art" has been curated by Lindsey Lybrand, a licensed creative art therapist who earned her bachelor of science in child and developmental psychology and studio art in 2009.
The exhibition will open Thursday, Nov. 10, with a reception from 4 to 6 p.m. Also, there will be a walk-through discussion at 4:30 p.m. featuring Lybrand and two Vanderbilt professors with strong expertise in fields related to mental health. They are Sohee Park, the Gertrude Conaway Vanderbilt Professor of Psychology in the College of Arts and Science and professor of psychiatry; and David Zald, professor of psychology and psychiatry.
While a senior at Vanderbilt, Lybrand was honored with the Margaret Stonewall Wooldridge Hamblet Merit Award. She earned a master of arts in art therapy from New York University in 2013.
According to Lybrand, "Working Through Art" offers perspective to the community on how patients being treated for mental health disorders develop insight into their symptoms, ideas of recovery, and goals and dreams for their lives.
"[lquote]The artwork represents and reflects a range of diagnoses and symptoms as well as functioning levels, and shows various ways art therapy can be used to address symptoms[/lquote] of schizophrenia, depression, anxiety, and co-occurring substance-use disorders while empowering the client," Lybrand said.
All the participating patients in the exhibition have been diagnosed with a psychiatric disorder and are engaged in programming to help them return to work or school or find new housing. One of the exhibition's goals is to show how art therapy can be used to help organize, structure and give a voice to concepts that many of the participating clients could find challenging to express verbally.
"Working Through Art" will be open weekdays at the Vanderbilt Studio Art Gallery from 10 a.m. to 4 p.m. through Dec. 9.
For more information, email Martha Dale or call (615) 343-7241.