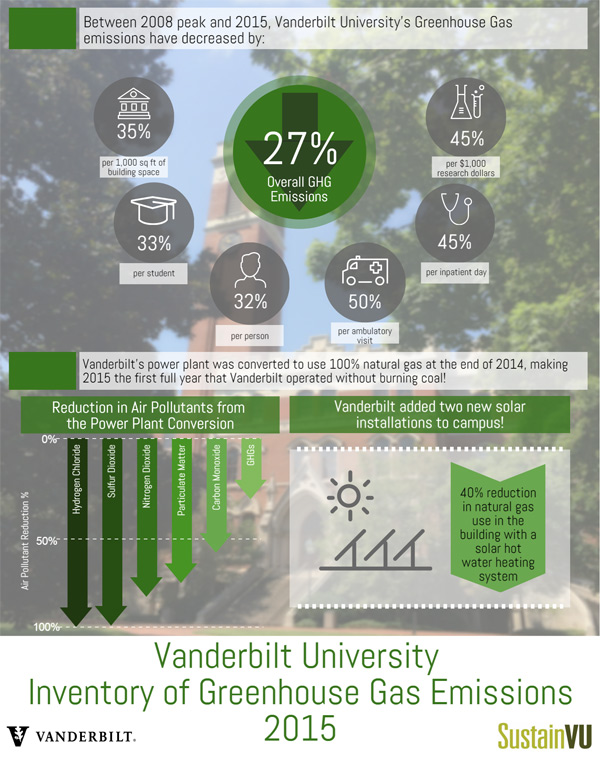 To celebrate Campus Sustainability Month in October, Vanderbilt's Facilities organization has released an updated inventory of the university's greenhouse gas (GHG) emissions for the past decade, from 2005 to 2015.
GHG emissions dropped 11 percent in one year and 27 percent from the 2008 peak. When Vanderbilt's significant growth in square footage, students, patient care and research dollars is taken into account, GHG emissions have been reduced by almost 35 percent per gross square foot of building space and by 45 percent per research dollar since 2008.
The inventory report captures an important milestone in Vanderbilt's energy history—2015 was the first year that Vanderbilt University's co-generation power plant was fueled entirely by natural gas. The conversion of the power plant began in 2013 and reached a major milestone on Nov. 19, 2014, when the plant burned its last piece of coal. Construction and operational testing continued throughout 2015.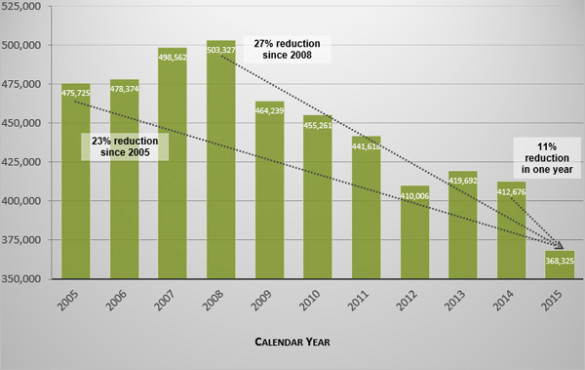 The conversion of the plant has increased its operational efficiency while also contributing to significant environmental benefits. GHG emissions from the power plant have decreased 26 percent from the plant that burned coal pre-conversion in 2013 to the post-conversion plant fueled entirely by natural gas in 2015. Emissions of hazardous air pollutants also have been reduced significantly: hydrogen chloride by 100 percent, sulfur dioxide by 99 percent, nitrogen dioxide by 83 percent, particulates by 74 percent and carbon monoxide by 56 percent. Further gains in emission reductions are expected in future years as the plant settles into maximum operational efficiency.
"The impacts we have seen from the conversion of the power plant have been enormously significant. The plant is now cleaner, quieter and more efficient than ever before," said Mike Perez, associate vice chancellor and chief facilities officer. "We look forward to continuing to improve the efficiency of our operations, both inside the plant and across campus, and to improve the sustainability and lessen the environmental impact of Vanderbilt University."
Quantifying GHG emissions over time allows the Vanderbilt community to better understand its unique impact on the environment now and in the past and determine the most effective improvement strategies to implement in the future.
Vanderbilt emits GHGs primarily through building utility consumption; faculty, staff and student commuting behaviors; and the disposal of waste. Total GHG emissions at Vanderbilt are significantly impacted by how the campus is used. "We hope that faculty, staff and students will do their part to make Vanderbilt a more sustainable campus by employing simple green behaviors, like finding alternate ways to get to campus than driving a single-occupancy vehicle, conserving energy by adjusting thermostats to minimize excess heating and cooling demands, and turning off the lights and powering down electronics when they are not in use," said Andrea George, Sustainability and Environmental Management Office (SEMO) director.
SEMO compiled the report, which is available in its entirety on the SustainVU website.
For more information about Vanderbilt's sustainability program, visit SustainVU, become a fan of the SustainVU Facebook page, follow @SustainVU_Vanderbilt on Instagram or @SustainVU on Twitter, or contact SEMO at SustainVU@vanderbilt.edu or 615-322-9022.