Media Inquiries
Latest Stories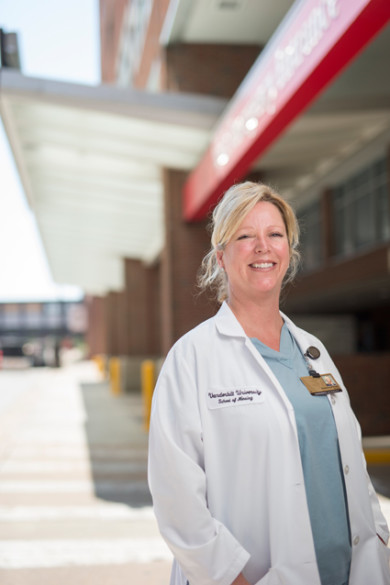 Fresh from college with a bachelor's degree in nursing, Susanna Rudy tackled her first job—working in the emergency department at Johns Hopkins Hospital, a Level I Trauma Center.
"I tell my students to find the most difficult place they can work and start there," said Rudy, an instructor in the School of Nursing. "That will lay down a foundation for managing just about anything."
Rudy speaks from experience. She's a board-certified nurse practitioner in emergency, family and adult-gerontology acute care who earned a master's degree in forensic science before earning master of science in nursing and doctor of nursing practice degrees, the latter two from Vanderbilt.
She's worked in emergency departments, intensive care units, trauma centers and critical and acute care units. She interned for the Naval Criminal Investigative Services (yes, NCIS) and externed for the Los Angeles County Sheriff's Department Crime Lab. She is certified in advanced cardiac and advanced burn trauma life support and has worked as a flight nurse, suited up for Homeland Security and disaster response teams, and earned a spot in Emory University's highly competitive acute care nurse practitioner/physician's assistant residency program.
It was this last experience in which Rudy identified a gap in nursing education that she's determined to fix.
Despite the need for emergency nurse practitioners in the U.S. health care system, there are few programs that provide advanced specialized educational and clinical experiences for entry-level ENPs or family nurse practitioners that want to work in emergency medicine.
For her doctoral research, Rudy studied the nine U.S. programs that offer advanced, hands-on fellowships for ENPs. She discovered that the intense postgraduate programs vary in curriculum and clinical training but are similar in structure, format, prerequisites and certain demographics. Working from there, she developed a framework and a proposed standardized curriculum that could serve as a national ENP fellowship standard. She foresees developing a pilot postgraduate fellowship program using the standardized curriculum, with the ultimate goal of seeing it roll out across the country.
In keeping with what she half-jokingly referred to as her "desire to only seek out adrenaline-producing positions," Rudy recently became the first emergency nurse practitioner to join Vanderbilt University Medical Center's emergency department. Her responsibilities also include teaching and scholarly activities.
Rudy is working with the existing emergency nurse practitioner faculty to expand the opportunities for VUSN students to gain ER experience. "[rquote]I feel I have something to offer from all of my years of experience,"[/rquote] she said. "That's the wonderful thing about nursing: You can do anything. You're only limited by your opportunities."
View the complete list of new university faculty for 2016-17.
View the complete list of new medical faculty for 2016.