New faculty: Ronald Alvarez is advancing discoveries in gynecologic oncology
by
Jessica Pasley
Oct. 17, 2016, 11:56 AM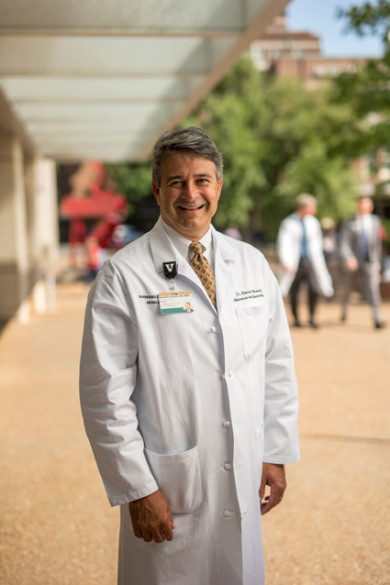 Ronald David Alvarez admits he has no great story to tell about why he became a doctor, no role model for him to follow, nor any life-changing circumstances that prompted him to study medicine.
But he will say that becoming a physician has always been one of his career choices—the other being an airline pilot. "But I didn't have the eyesight for flying," Alvarez joked.
The new chair of the Department of Obstetrics and Gynecology at Vanderbilt University Medical Center said medicine was always first and foremost in his heart.
"I sort of decided in high school that I wanted to be a doctor," Alvarez said. "I was always fascinated by medicine and taking care of people. I think it's how I am wired.
"When I went into residency, I was certain I would go into general ob/gyn, but one of my first rotations was with the oncology service," he said. "I immediately fell in love with the patients and the science of cancer."
A leading expert in the field of clinical gene therapy for ovarian and cervical cancers, Alvarez's long-term research interests have included the development of novel therapeutics for ovarian cancer and screening and prevention strategies for cervical cancer. He has spent his entire career at the University of Alabama in Birmingham and hopes that his myriad clinical, educational, scientific and administrative experiences will serve him well in his move to Vanderbilt.
"When there were forks in the road, I always took the path that seemed a bit more difficult, and I am proud of that," he said. "I learned that taking the path less chosen always provided me with an opportunity for personal growth or to contribute in small ways to advancing gynecologic oncology in this country.
"I'm looking forward to this incredible opportunity at Vanderbilt," he continued. "I want to build upon the foundation already established and develop a plan to deliver cost-effective, high-quality care while supporting innovation in clinical care and training."
In his spare time, Alvarez hopes to continue exercising, golfing and spending time with his family. He and his wife, Denise, recently celebrated their 37th wedding anniversary. The couple has three adult children and two grandchildren.
Alvarez graduated from Louisiana State University in 1979 and received his medical degree from LSU Medical Center in 1983. He completed his residency at UAB in 1987, followed by a fellowship in gynecologic oncology in 1990.
He remained on the faculty of the UAB Department of Obstetrics and Gynecology after completing his training. In 2013, he received his MBA from Auburn University.
View the complete list of new university faculty for 2016-17.
View the complete list of new medical faculty for 2016.