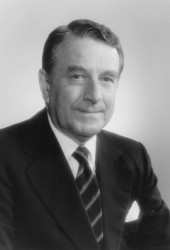 Thomas B. Walker Jr., a Vanderbilt University alumnus and emeritus member of the Board of Trust, died Oct. 11. Walker, 92, passed away at his Dallas home from congestive heart failure.
Walker, BA'47, was an investment banker and former managing partner of Goldman Sachs & Co. He also had been a director of Goldman Sachs International of London.
Walker was a member of the New York Stock Exchange and a past president of the Dallas Securities Dealers Association. He also had been a member of the National Association of Securities Dealers and the Investment Bankers Association of America.
"[lquote]Tommy Walker was an exemplary citizen and an extraordinarily generous and kind man[/lquote]," said Vanderbilt Chancellor Nicholas S. Zeppos. "As a university, we are deeply grateful for his affirming support of Vanderbilt's values as a devoted alumnus, his years of leadership as a trustee, his inspiring example of serving his country, and for providing transformative opportunities for our students and faculty."
Walker was born in Nashville Dec. 23, 1923. He graduated om West End High School before enrolling at Vanderbilt. Walker left the university to serve in the U.S. Navy during World War II, and returned to Vanderbilt, where he earned a bachelor of arts and graduated magna cum laude in 1947. While in college he was inducted into Phi Beta Kappa and Omicron Delta Kappa honor societies. He also was president of his freshman class and president of Beta Theta Pi Fraternity.
Walker joined Equitable Securities Corp. in Nashville and was named head of the Dallas office in 1950. That year he married Anne Marie Newton, who was born and grew up in Memphis, Tennessee.
Walker opened the Dallas office of Goldman Sachs in 1968. He served 10 years on Goldman's eight-member management committee. He retired from the company in 1999 but continued as a senior director.
Walker joined the Vanderbilt Board of Trust as an alumni trustee in 1974 and was elected to the board in 1975. During his time on the board, he served as vice president and as a member of the Executive and Investment committees. He became a trustee emeritus in 2003.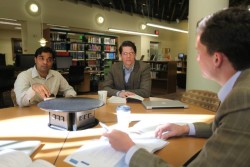 As a visionary philanthropist, Walker supported the strategic growth of both the Owen Graduate School of Management and the university at large. The Walkers first established The Anne Marie and Thomas B. Walker Jr. Chair in Finance and Accounting—one of the earliest endowed chairs at Owen. This chair aided in the recruitment of Hans Stoll, emeritus professor of finance, who founded the Financial Markets Research Center at the school. Soon afterward, the Walkers provided philanthropic support to build the Walker Management Library.
"I feel fortunate that I was able to visit Tommy just a few weeks ago," said M. Eric Johnson, Ralph Owen Dean and Bruce D. Henderson Professor of Strategy. "He was sharp as ever, remembering his business partners in Nashville who helped Ralph Owen build the school. As always, he wanted to know how our students were doing and what was happening in the library."
In appreciation for his own Vanderbilt education, the Walkers established The Anne Marie and Thomas B. Walker Jr. Scholarship to support undergraduates with need in the College of Arts and Science.
Anne Marie Walker, his wife of 60 years, died in 2010. Walker is survived by two sons, Thomas B. Walker III and John Newton Walker; a brother, Robert Walker; and six grandchildren.
A memorial service will be held at Highland Park Presbyterian Church in Dallas Oct. 21.