Media Inquiries
Latest Stories
When China native Cici Xuning Zhang first started searching for colleges, a university in Nashville, Tennessee—or even in the United States— was far from her mind. Then an iconic picture of Vanderbilt's Kirkland Hall popped up on her computer screen.
"There was one day that I went onto this website and started looking for college pictures, and this really beautiful picture of Kirkland just showed up on my laptop screen. I thought, 'This is amazing!'" Zhang recalled. "I started researching about Vanderbilt University, and I just knew that this was my fit."
Zhang reached out to Vanderbilt Admissions counselor Julie Chapman and was thrilled to get an email back right away. She said that Chapman helped her learn about everything Vanderbilt has to offer.
"[rquote]The diversity here, the academics, and all of the different opportunities on campus just really made me feel like I'm at the right place,"[/rquote] Zhang said. "My parents were nervous about me traveling to a completely new country, but I fell in love with Vanderbilt."
Sharing Vanderbilt with China
Zhang is now helping to share her Vanderbilt experience online with people in China by working in the Undergraduate Admissions office. Zhang and a group of other Chinese students manage Vanderbilt's official posts that go on China's unique social media networks.
"What I do is find posts and try to cater those posts to the taste of international communities. It's just so fun engaging with the community online," she said.
But Zhang says it takes more than a "snap" to reach Chinese students online.
"I think a lot of American students don't know that Facebook, YouTube and Snapchat—all the social media platforms—are blocked in China," Zhang said. "So I work with China's unique networks."
Mixing creativity and culture
Zhang says her favorite part of managing the social media posts to China is mixing her creativity with her culture, like honoring China's Mid-Autumn Festival, which is similar to Thanksgiving in the United States.
"I took a picture of the moon and posted it on the website, and a lot of people in China liked it. Having that post out there for them to see also really means a lot to the Chinese students here, because they know that Vanderbilt is their home and that Vanderbilt really cares about them," Zhang said.
She also tries to share what life in Nashville is like.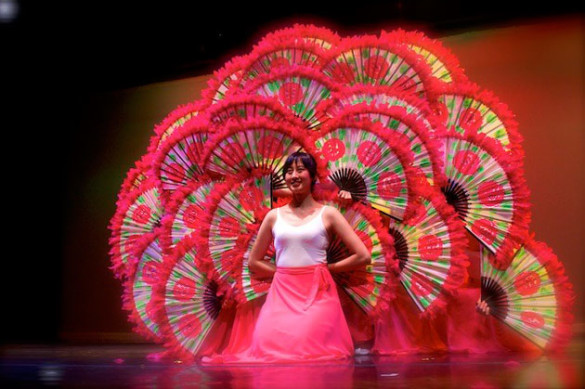 "Many Chinese people do not know that Nashville is actually one of the cool cities here in the United States," Zhang said. "I try to find unique pictures of Nashville, especially if I find something with great music stars, like Taylor Swift, that a lot of international students are familiar with. I try to connect those dots together for them, because they really don't have those resources."
And her work with Vanderbilt Admissions is making a difference with larger numbers of native Chinese students applying to Vanderbilt.
"I recently met an international student from China who's currently at Vanderbilt, who told me that he's been looking at the posts on the social media platform and that's how he got interested in Vanderbilt. So it's really amazing to think how technology has connected us and has brought him from China to the United States," Zhang said.
Cross-cultural research
Zhang is also passionate about her studies and her research in the Vanderbilt Infant Learning Lab. The Harold Stirling Vanderbilt Scholarship recipient is a child development major, with minors in quantitative methods and human and organizational development.
"I chose child development because I really love children," she said. "I also love psychology and education. So child development is kind of like the combination of those three aspects of what I love."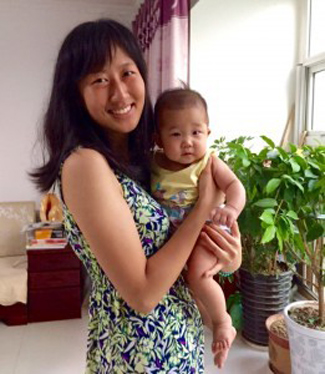 Zhang has been doing research in Professor Amy Needham's lab since her freshman year.
"She started working in my lab right away, and she's been doing amazing work in our lab ever since," said Needham, a professor of psychology and human development and chair of the department in Vanderbilt's Peabody College of education and human development.
Zhang is now working on an immersion-type honors thesis tied to her work comparing differences in child rearing between the United States and China.
"It's a cross-cultural study on investigating the different parenting styles of how babies are held and how that affects babies' motor development," she said. "We only have very preliminary results, but our Chinese parents are definitely more cautious of their babies' movements compared with American parents. And they are more likely to lay their babies flat on the ground rather than have them upright in bouncy seats."
Zhang collected a great deal of her data on Chinese babies by working over the summer in Beijing, China.
"She went back home to Beijing, and she, on her own, forged this connection with a research lab at Beijing Normal University. She was collecting data with Chinese babies in Beijing for almost the whole summer," Needham said. "What an ambitious young woman, and what a great idea that she had."
Needham says this work could give Zhang a big step up if she decides to pursue a graduate degree.
"I am quite sure that the data Cici has collected will be publishable," Needham added. "She will go into her graduate work with a publication under her belt, and that really does set students apart from other applicants."
Zhang says she loves her native China but is seriously considering graduate school in the United States.
"Vanderbilt is truly my home away from home," she said.