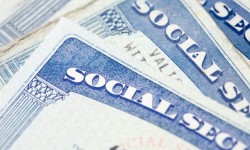 Space is going fast! If you're nearing retirement, R.S.V.P. today to attend a special luncheon session for Vanderbilt University employees to learn about Social Security and how it can fit into your retirement plan. The luncheon is hosted by Fidelity Investments, Vanderbilt's retirement-plan administrative services provider.
Make the Most of Social Security
Thursday, Nov. 10, 11:30 a.m.–1:30 p.m.
Vanderbilt University Club
 
This workshop provides you with the tools and information to help you optimize Social Security. It focuses on the basics, calculating your benefits, when and how to claim, tips before you claim, and steps to take.
After the workshop you should be able to:
Understand the importance of Social Security in your savings plan
Take the steps you need to maximize your claiming strategy
Plan for your retirement income
R.S.V.P. today to getguidance.fidelity.com.
Select "Attending a special event," and click Next.
Tell us about yourself. Select Tennessee as your work location. Select Vanderbilt University as your employer. Select the event location for the meeting, and click Next.
Click "Attend Workshop and Confirm Your Appointment."
See this flier for more information and a detailed agenda.
If you need help registering, or have questions, call Fidelity at 1-800-642-7131.