Vanderbilt faculty and staff are invited to an extraordinary performance event inspired by the 2016 Commons Reading Strong Inside: Perry Wallace and the Collision of Race and Sports in the South on Saturday, Sept. 24, as part of Vanderbilt's Family Weekend.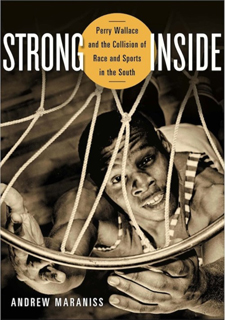 The event is scheduled from 2:30 to 4 p.m. in Langford Auditorium. Tickets are $10 and available for purchase at the Sarratt Student Center box office.
Strong Inside author Andrew Maraniss, BA'92, will relay portions of his book, a New York Times best-seller and winner of the 2015 Lillian Smith Book Award and the lone Special Recognition honoree at the 2015 RFK Book Awards. Strong Inside is the biography of Wallace, a Vanderbilt alumnus and sports and civil rights pioneer, who was the first African American to play basketball in the Southeastern Conference beginning in the 1966 fall semester.
Marshall Chapman, BA'71, will perform live music. Chapman is a singer-songwriter and author who has released 13 critically acclaimed albums, her most recent being Blaze of Glory, hailed a "masterpiece" by National Public Radio.
In addition, the Vanderbilt student groups VIBE and Rhythm & Roots will present dance, spoken word and solo performances.
Maraniss and Chapman will sign copies of their books and albums in the Langford Auditorium lobby following the performance. In partnership with Barnes & Noble Vanderbilt, items will be available for purchase.
The Sept. 24 event is sponsored by Vanderbilt University Parents and Family Programs, The Martha Rivers Ingram Commons, and Arts and Campus Events.