A pastor and Tennessee legislator who is a civic and religious leader and a priest who has been a leader in higher education and community service are the 2016 Vanderbilt Divinity School and Graduate Department of Religion Distinguished Alumni/ae Award recipients.
The Rev. Harold Moses Love Jr., who represents District 58 in the Tennessee House, and the Rev. Edward A. "Monk" Malloy, who is president emeritus of the University of Notre Dame and an emeritus member of the Vanderbilt Board of Trust, will be honored Nov. 15 at the Divinity School.
"It is a great honor that we are able to recognize these distinguished alumni," said Emilie M. Townes, dean of the Divinity School and the E. Rhodes and Leona B. Carpenter Professor of Womanist Ethics and Society. "Both of them have made the world a much better place as they continue to guide us down pathways of justice and hope—be it in the realm of public policy or higher education. Their voices and vision are needed in helping us meet the challenges and possibilities of our times."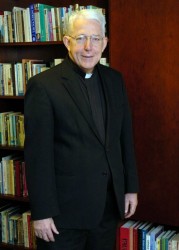 Malloy, 75, was born in Washington, D.C. He earned his bachelor's and master's degrees in English from Notre Dame in 1963 and 1967. He also received a second master's degree in theology in 1969 while studying for the priesthood. Malloy has been a member of the Notre Dame faculty since 1974, and was ordained to the priesthood in the Sacred Heart Basilica on that campus in 1970. He earned a doctorate in Christian ethics from Vanderbilt in 1975.
Malloy became president of Notre Dame in 1986, leading the university at a time of rapid growth in its reputation, faculty and resources.
In 1998, Vanderbilt Divinity School established the Edward A. Malloy Chair in Catholic Studies, which is currently held by the Rev. Bruce T. Morrill, professor of theological studies. When the chair was announced, Malloy said that after having received all of his education at Catholic institutions, he viewed his time at Vanderbilt, with faculty from a variety of denominations, as an opportunity "to broaden my horizons."
"The young Father Malloy's desire to situate and broaden his theological education in an ecumenically diverse graduate program in Christian ethics is reflected in the endowed chair that now bears his name," Morrill said. "Indeed, the opportunity to further the possibilities for Roman Catholic theology to contribute to and benefit from learning with other faith traditions was crucial to my own decision to join the Vanderbilt Divinity faculty."
Malloy has played a leadership role in many higher education associations, including the American Council on Education. He served two terms on the Vanderbilt Board of Trust before becoming an emeritus member in 2009.
While Malloy became president emeritus of Notre Dame in 2005, he continues to teach, conducting a seminar for first-year undergraduates each semester and living in a student residence hall on campus.
Malloy has worked hard to promote community service and combat substance abuse. He was a founding director of the Points of Life Foundation. He has been a member of the National Advisory Council on Alcohol Abuse and Alcoholism, President George H.W. Bush's Advisory Council on Drugs and the Community Anti-Drug Coalitions of America. He was co-chair of a major study on college drinking for the National Institute on Alcohol Abuse and Alcoholism.
In 2008 he donated a kidney to his nephew and has become an advocate for organ transplantation.
Malloy is a prolific writer, with more than 50 articles, book chapters and books, including a three-volume memoir. The final volume, Monk's Tale: The Presidential Years 1987-2005 was released in August.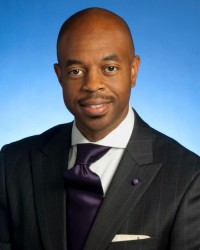 Love, 43, was born in Nashville to the late Rep. Harold M. Love Sr. and Mary Y. Love. He attended Metro Nashville public schools and graduated with honors from Whites Creek High School. He enrolled at Tennessee State University, where he marched in the Aristocrat of Bands and was initiated into the Rho Psi chapter of Omega Psi Phi Fraternity. He earned a bachelor's degree in economics and finance with a minor in political science in 1994.
Love experienced the call to ministry and went to Vanderbilt Divinity School, where he earned a master of theological studies in 1998. He was ordained an elder by the African Methodist Episcopal (A.M.E.) Church in 1999 and received his first pastoral assignment at Hopewell A.M.E. Church in Columbia, Tennessee. Since October 2002, he has served as pastor of St. Paul A.M.E. Church in Nashville.
"Rep. Harold Love's roots grow deep in the tradition of his family, including his father, and his education at Vanderbilt Divinity School expanded his vision for compassionate politics and religious leadership," said Forrest Harris, associate professor of the practice of ministry and director of the Kelly Miller Smith Institute on Black Church Studies at Vanderbilt. "Rep. Love is a true holistic visionary for social justice in the community, and we are deeply proud of his dedication to public service and ministry in Nashville."
Since 2013 Love has been the primary organizer of "Love's Healthy Start Festival," with a collaboration of 30 community organizations to sponsor a back- to-school event. It has provided more than 4,000 backpacks to students while promoting higher education, nutrition and health habits, and responsible citizenship.
Love serves on the board of trustees for 18th Avenue Family Enrichment Center, Tennessee State University Foundation, Tennessee Advisory Commission on Intergovernmental Relations and Tennessee Higher Education Initiative. Love has been a state representative since 2013. He is a member of the Education Instruction Programs Committee, Business and Utilities Committee, and Calendar and Rules Committee.
He is pursuing a doctorate in public administration at Tennessee State University.
Previous Distinguished Alumni/ae Award recipients include James Lawson, Becca Stevens, Bishop Joseph Johnson Jr. Fred Craddock, Gardner Taylor, Thomas W. Ogletree, Charlotte Hotopp Zachary, James Crenshaw and Kenneth Robinson.