More than 800 faculty and staff responded to the recent online survey in MyVU about internal communications—specifically the MyVU suite of publications and HR communications. Overwhelmingly, respondents endorsed the twice-weekly MyVU e-newsletter. The MyVU audience is split 50/50 between faculty and university staff. Survey respondents were 20 percent faculty and 80 percent staff.
Other findings of the survey include the following:
92 percent said the email keeps them informed about the VU community
86 percent said it was just the right length
79 percent said they read every issue
67 percent said it helps them conduct their work life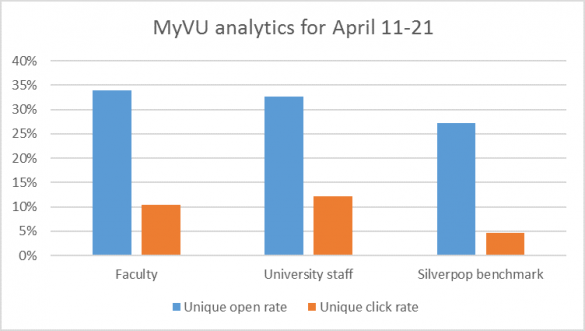 A readership analysis of the MyVU e-newsletter in April showed that faculty were the most engaged with the newsletter, with more than 33 percent of recipients opening the newsletter and 10 percent of that audience clicking on at least one story. University staff had an open rate of 32.6 percent, with 12.2 percent of those staff members clicking on a story. These statistics outpace national benchmarks, which for the education sector show an average open rate of 22 to 27 percent and a click rate of 2.75 to 4.6 percent.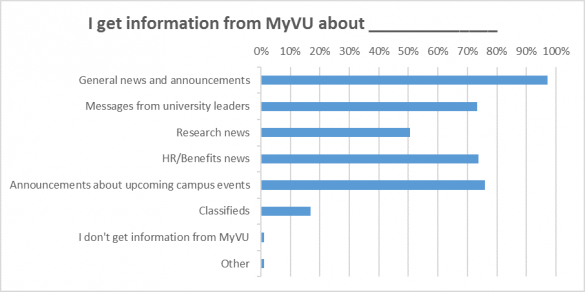 Recommendations to improve communications included more staff-related news and articles, more timely information about campus happenings, an expanded and centralized event calendar, and information on construction, traffic and parking changes. Respondents also expressed interest in an internal social media presence or an intranet, with 45 percent saying they would use it if available.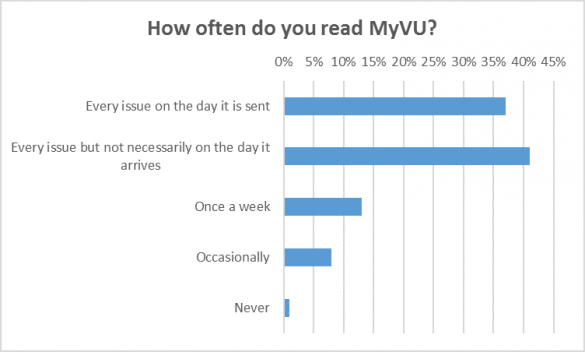 MyVU, which contains news from across the campus, is broadcast by email on Mondays and Thursdays to faculty and university staff. Seventy-nine percent of survey respondents said they read every issue of MyVU, relying on it for messages from university leaders, general news and announcements, and news about upcoming events and HR benefits.
For the MyVU website, 75 percent of respondents said they visited the internal news website at least once a month.
MyVU is produced by University News and Communications in the Division of Public Affairs and is managed by Editor Kara Furlong. The MyVU team will use the data to continue to refine its content to make it even more relevant and useful to readers and to review how news is disseminated.
HR communications also received high marks in the survey, with respondents finding that the content on the HR website was timely, useful and accurate. They said they received the right amount of information about employee events and celebrations, HR benefits, and compensation and pay. They wanted more information about training, development and job opportunities.
Survey drawing winners announced
Survey respondents had the opportunity to enter a drawing for one of four $50 Amazon gift cards. The winners, chosen at random, are:
Vanessa Allwardt, project manager, Physics and Astronomy
Shunta Curry, director, Office of the Chancellor
Jason Keeler, systems coordinator, Operator Services
Angela Zito, program coordinator, Sarratt Student Center