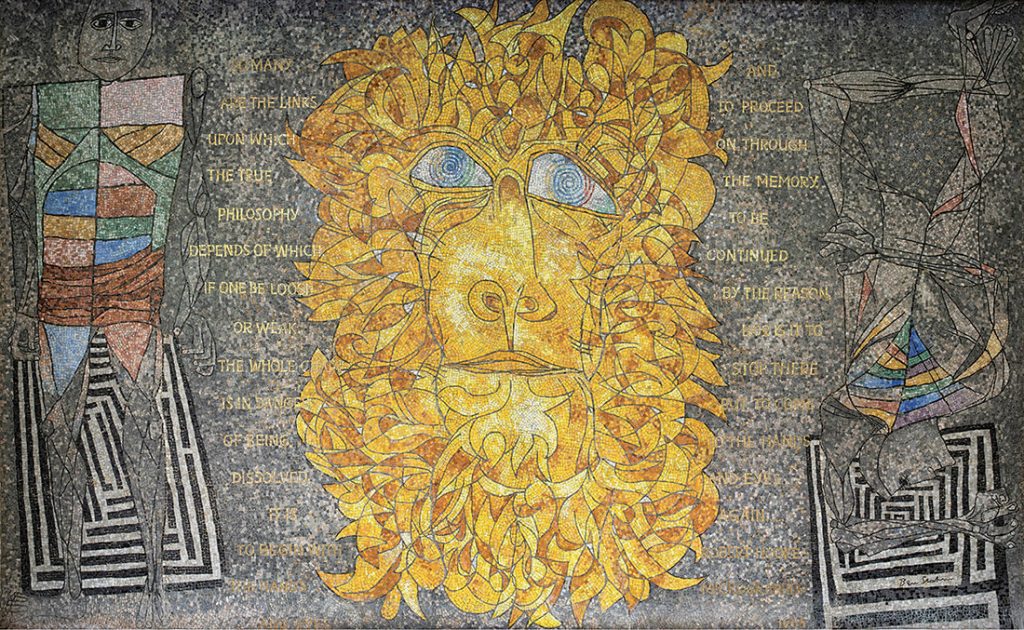 It has been 47 years since Ben Shahn's mosaic Peabody—1968 was dedicated in the Hobbs Human Development Laboratory on what was then the campus of George Peabody College for Teachers. The effort to commission Shahn, an artist well known for his advocacy for the poor, was spearheaded by Susan Gray, professor of psychology, emerita, and an advocate for children, particularly those held back developmentally by poverty. She met Shahn in 1965, the same year the John F. Kennedy Center was established at Peabody. Knowing about his concern for the poor and dispossessed, "I thought I'd get up my nerve and ask him if he'd be interested in doing something for us," she said in a 1990 interview, two years before her death.
Though Shahn was interested, he was reluctant to take on a major new work. Gray and Carl Haywood, professor of psychology, emeritus, eventually traveled to Shahn's Roosevelt, New Jersey, home to convince him to take the commission.
"The building would be occupied by scientists whose job was to take people apart figuratively and examine their components in order to understand better how human beings function," Haywood said a few years ago. "We were acutely aware of the need to restore the essential humanity to our enterprise, to recognize the connection of every individual to the universe in the most human way, and we argued that art is better equipped than science to accomplish that."
Convinced by their argument, Shahn completed the painting on which the mural would be based, and it was shipped to mosaicist Gabriel Loire in Chartres, France, later that year. Although Shahn died before the mosaic's three panels were begun, his wife, artist Bernarda Bryson Shahn, supervised some of the work on the mosaic and spoke at its dedication. The original painting, titled Peabody, now hangs in the Vatican Museum. Ten years ago this summer, the mosaic was cleaned and restored, with new lighting and clear glass installed on the outside of the building to allow better viewing.
"Ben Shahn's mural is easily my favorite work of public art on campus from the last century," says Joseph Mella, director of the Vanderbilt Fine Arts Gallery. "It's a remarkable work that conveys a spirit of hope, and supports the belief that given the opportunity, the study of art can play a central role in shaping our thinking and how we effectively navigate life."
A second Shahn mosaic resides in Nashville at The Temple, Congregation Ohabai Sholom. The Call of the Shofar was installed there in 1959. The late Rabbi Randall M. Falk, MA'66, DDiv'69, of The Temple gave the dismissal at the dedication of Shahn's Peabody mosaic in October 1969.
---