Celebrate National Farmers' Market Week Aug. 7–13 by visiting the Vanderbilt Farmers' Market from 2 to 5 p.m. Thursday, Aug. 11, at Vanderbilt Medical Center Plaza, or by checking out one of the many local farmers' markets in Nashville.
The Vanderbilt Farmers' Market will have a photo contest and a special giveaway to celebrate National Farmers' Market Week. For a complete listing of farmers' markets available throughout all Tennessee counties, visit Pick Tennessee Products' Farmers' Market page.
At the start of 2016, there were more than 8,500 farmers' markets in the United States—50 percent more than just five years ago. Getting your food from local sources, such as farmers' markets or community supported agriculture (CSA) farms, has a number of benefits:
Access to fresh, seasonal produce that is picked at its peak nutrient load;
Reducing transportation costs and harmful emissions associated with non-local produce;
Cultivating a relationship between growers and consumers;
Supporting the local economy; and
Promoting farmland, local farmers and their families.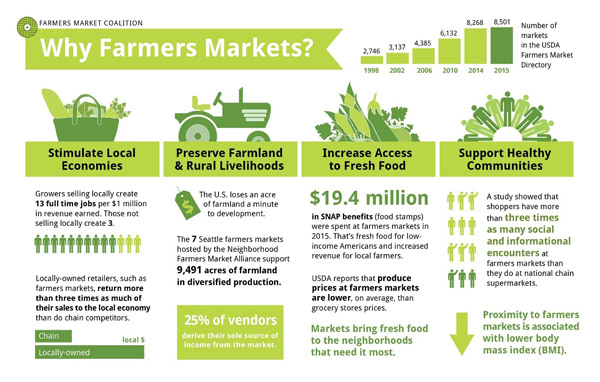 For more information, visit the SustainVU website or contact the Sustainability and Environmental Management Office (SEMO) at sustainvu@vanderbilt.edu or 615-322-9022.
Learn more about the Vanderbilt Farmers' Market on the Vanderbilt Health and Wellness website. Learn more about National Farmers' Market Week on the Farmers' Market Coalition website.
Contact: SEMO, 615-322-9022
sustainvu@vanderbilt.edu