Media Inquiries
Latest Stories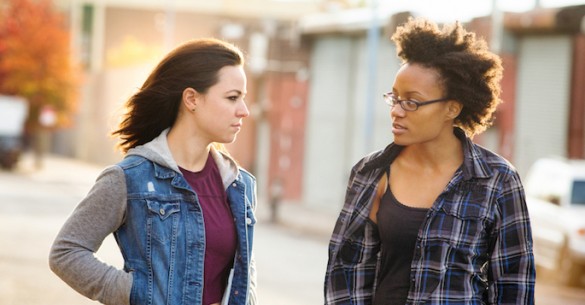 A Vanderbilt Divinity School student who earned a graduate degree from Peabody College of education and human development has been awarded a Curb Public Scholarship for 2016-17 to develop a game-based tool for reducing subtle and implicit bias within group interactions.
Leah Lomotey-Nakon, one of eight Curb Public Scholars for 2016-17, will develop, publicly test, revise and then release what she has tentatively named the "Card Project."
Lomotey-Nakon, who is half-Ghanaian, became aware of the negative impact of microaggressions on minority groups while growing up and attending a predominantly white school in Spartanburg, South Carolina, for 14 years. The term "microaggression" was first used by psychiatrist Chester M. Pierce in the 1970s to describe a subtle but offensive or demeaning comment or action that is directed at a minority or other non-dominant group.
She credits the longstanding friendships and shared experiences with her classmates over many years that allow them to have heart-to-heart conversations on race and religion.
"[rquote]Many times subtle comments such as 'you don't act black' or 'but you sound white' are not intended to be insulting or demeaning, but the consequences are significant[/rquote]," she said. "We must find mindful ways to address these hurts, providing pathways to transformation rather than just confrontation."
Lomotey-Nakon will develop a game-based process that allows participants to engage in critical reflection about their social interactions. She plans to create a virtual hub for those seeking to create healthier organizational cultures. In addition, she plans to write a book, accessible to a general audience, to summarize data around microaggressions, implicit bias and structural inequality.
"In addressing microaggressions by bringing together game theory and virtual community to develop tools that facilitate critical reflection on social interactions, Leah's project exemplifies the transformative and timely research into the potential ethical, social and policy consequences of innovation that the Curb Center celebrates and encourages," said Elizabeth Meadows, assistant director of the Curb Center for Art, Enterprise and Public Policy. "We are so excited to have her join this group of researchers committed to encouraging one another's public scholarship and putting research into action in the community."
"Leah brings a fine analytical and creative mind to the 'Card Project,' said Emilie M. Townes, dean of Vanderbilt Divinity School and the E. Rhodes and Leona B. Carpenter Professor of Womanist Ethics and Society. "She is a caring and astute observer of human interactions and will blend her experiences with what she has learned from Peabody and the Divinity School to help us understand our implicit biases, face them and then work together to eradicate them." Townes is Lomotey-Nakon's faculty adviser.
According to research from Cultural Diversity and Ethnic Minority Psychology, students of color reported experiencing an average of 291 microaggressions in the prior 90 days. For her proposal, Lomotey-Nakon also cites research from Brian A. Nosek and Rachel Riskind, two psychology professors who found that education alone cannot prevent socially biased behavior.
"My work is informed by the work of Kimberle Crenshaw, a legal scholar of critical race theory; PolicyLink, a national research and action institute advancing economic and social equity; and the Kirwan Institute for the Study of Race and Ethnicity, which documents the material difference that implicit bias creates in our lives," Lomotey-Nakon said.
Lomotey-Nakon earned a bachelor of arts from Emory University, where she majored in political science and minored in African American studies. In 2013, she enrolled in the community development and action master's degree program, housed within Peabody's Department of Human and Organizational Development, where she studied under the guidance of Paul Speer, professor and chair of the department. She also took Divinity School courses that expanded the focus of her academic studies. Lomotey-Nakon earned a master of education in May and is on track to earn a master of theological studies degree in May 2017.
"Leah has developed an exciting project that is grounded in direct experience and careful scholarship," Speer said. "Most important, she is cultivating her own research that blends the values and methods of Peabody College and the Divinity School to intervene in support for those who must confront the microaggressions in their daily lives."
Lomotey-Nakon became a dual-degree candidate after taking classes taught by Stacey Floyd-Thomas, associate professor of ethics and society, and Lyndsey Godwin, assistant director for the Carpenter Program in Religion, Gender and Sexuality. She also earned the Mellon Certificate in Humanities Education, which promotes effective and innovative college teaching, from the Center for Teaching.
She said that the Curb Public Scholars program will provide space for her to work on a project that colleagues and mentors in both departments have encouraged her to pursue.
"Curb's resources and access to the creative community will help take this research from a passion project to a realized product that encapsulates my core personal mission to connect research to action," Lomotey-Nakon said. "In addition, the opportunity to grow and develop personally and professionally with a group of peers and the help of practitioners is a huge draw for the program."
For more information about the Curb Public Scholars Program, contact Elizabeth Meadows.