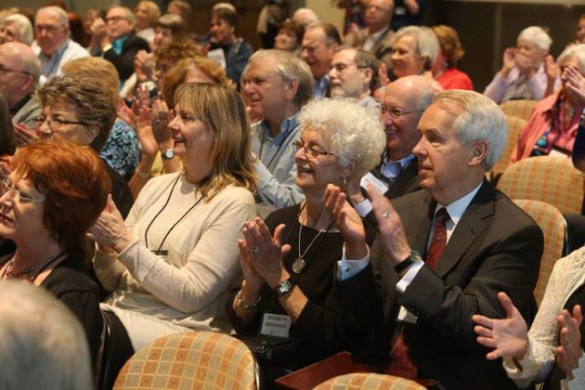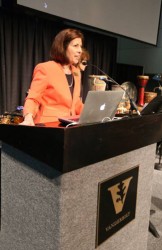 Listen and learn about Motown music, challenge your taste buds, and join "OLLI at OZ" for its inaugural visual arts festival during the Osher Lifelong Learning Institute at Vanderbilt summer term.
A Blair School of Music professor who has been called a "music education guru" will offer a four-part series on symphonic music at the Williamson County Library. Other classes will focus on healthy cooking, basic steps to playing the guitar, in-depth knowledge of wine, and performing island music in the Osher Steel Drum Band.
"Summer, with its slightly less-hectic pace for many lifelong learners, can be a great time to sign up for these intellectually stimulating classes in a relaxed environment," said Norma Clippard, director of the Osher Lifelong Learning Institute at Vanderbilt.
These noncredit classes are open to all those 50 and older.
The following classes are offered this summer:
"Osher Steel Drum Band" taught by Mat Britain, for seven Sundays beginning June 12. Students will be placed according to their desire to learn a particular instrument and their individual strengths. The class will meet from 1 to 2:30 p.m. at the Blair School of Music.
Juxtaposition of Flavors" taught by Jim Myers, food columnist for The Tennessean. Students will gain a new appreciation for the breadth of flavors and ingredients found in a variety of global cuisines as they taste many unusual foods. The menu is not designed for the picky eater. Six sessions are scheduled June 13, 15, 20, 22, 27 and 29 at the Vanderbilt Recreation and Wellness Center from 10 a.m. to noon.
"How to Play the Guitar in a Day," a one-day workshop for adults who want to learn to play guitar quickly and easily. The class will meet Monday, June 13, from 10 a.m. to 3:30 p.m. at the Scarritt-Bennett Center. The instructor is Marlene Hutchinson, creator of the workshop and president of Marlene's Music.
"The Music of the Motown Era" taught by David Williams, vice chancellor for athletics and university affairs, athletics director, and professor of law at Vanderbilt. Williams grew up in the neighborhood that birthed Motown and at one time had his own Motown program on WRVU FM. Students will learn about the early history of Motown in Detroit and listen to rhythm and blues sounds that came out of Chicago, Memphis and Philadelphia. The class meets for six Tuesdays, starting June 14, from 11 a.m. to 1 p.m. at the First Amendment Center.
"OLLI at OZ" led by Lauren Snelling, OZ Arts artistic director, and artists Adam Yekutieli and Tony Youngblood. Yekutieli's exhibit, Vicariously Speaking, incorporates his correspondence with Nashville prison inmates into text-based works to be placed on eight billboards throughout the city. The artist is photographing his work to be exhibited in OZ's Visual Art Gallery. Students also will learn about Youngblood's Modular Art Pods installation featuring nearly 60 cubed mini-galleries, each created by a different local artist or collective. This class meets at OZ Arts Nashville June 14 from 10 to 11:30 a.m. and June 23 at 6:30 p.m.
"Nutrition and Wellness Seminar" presented by the Osher Center for Integrative Medicine to teach the benefits of healthy cooking. The basics of container gardening to enhance both the flavor and nutritional value of one's food will be included in the five sessions — July 11, 12, 13, 14 and 15 — at the Osher Center for Integrative Medicine.
"The Best of Symphony 101: The Music that Created the Sound of the 20th Century" taught by Mitchell Korn for four sessions — July 11, 13, 18 and 20. Works by Tchaikovsky, Rachmaninoff, Gershwin and Stravinsky will be explored historically, personally and musically. Korn, an adjunct professor of music and community at the Blair School, serves as an adviser for the Nashville Ballet, the Cleveland Orchestra and the Bushnell Center for the Performing Arts. This course is scheduled from 9:30 to 11:30 a.m. at the Williamson County Library.
"The World of Wine" led by Pete Holland, wine columnist for the Nashville Scene. The class meets for four Tuesdays, starting July 12, from 2 to 3:15 p.m. at the University Club.
Interested individuals can register online for classes. For more information, email Norma Clippard or call 615-322-5569.