Media Inquiries
Latest Stories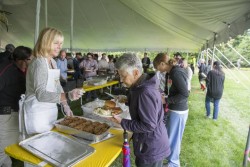 Morning showers, overcast skies and cool temperatures did not stop thousands of Vanderbilt University and Vanderbilt University Medical Center employees from celebrating at the Employee Appreciation Picnic, held May 17 on Library Lawn.
After being greeted by members of the VU and VUMC human resources team, employees enjoyed chicken breasts, hot dogs and veggie burgers fresh off the grill, as well as side dishes and drinks. Festive black and gold balloons and daisies dotting the tables added to the event's cheery atmosphere.
"I love the balloons," one attendee said. "And the table displays are lovely."
Senior leaders and representatives from Vanderbilt Athletics served up cookies for dessert. Those looking for a healthier treat picked up fresh peaches from Heath Plus.
"You know it's a fantastic event when the turnout is this good despite unpredictable weather!" another attendee added.
See photos from the event on the #vupicnic tab at social.vanderbilt.edu.
2016 Employee Appreciation Picnic by the Numbers
In total, Vanderbilt University and Medical Center employees consumed:
9,800 chicken sandwiches
8,200 hot dogs
3,200 veggie burgers
4,300 pounds of potato salad
4,000 pounds of cole slaw
10,500 hamburger buns
8,000 hot dog buns
15,000 cookies
17,000 beverages
In addition, 90 Famous Dave's employees helped with the picnic.