Intelligence expert Lenora Peters Gant named Peabody Distinguished Alumna
May. 17, 2016, 9:03 AM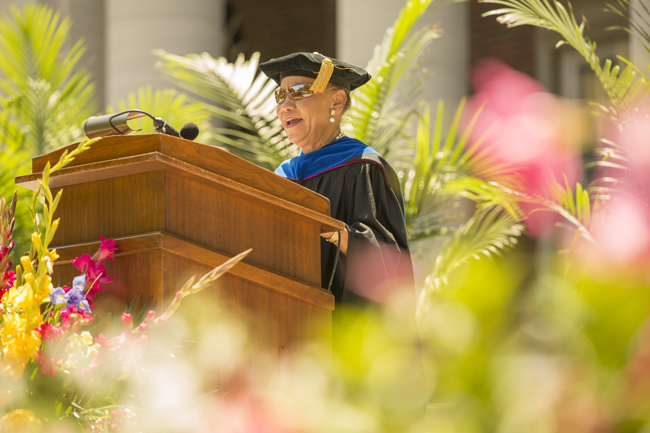 by Jane Sevier
U.S. Security and Intelligence expert Lenora Peters Gant received the 2016 Distinguished Alumna Award from Vanderbilt University's Peabody College of education and human development. Gant, one of the nation's leading experts on intelligence who throughout her career has played key roles in U.S. security, earned a master's of science at Peabody in 1976. She was presented with the award during Peabody's commencement ceremonies May 13.
Gant's various duties in government integrate positions in science, intelligence and education. Since 2014, she has served as senior executive for outreach and engagement in science, technology, engineering and mathematics at the National Geospatial-Intelligence Agency. NGA is both a combat-support agency under the United States Department of Defense and an intelligence agency for the U.S. intelligence community, with the primary mission of collecting, analyzing and distributing geospatial intelligence to support national security.
"Lenora Gant is one of our nation's foremost public servants and advocates for STEM knowledge as a criterion for excellence in government service and national intelligence," said Camilla Benbow, Patricia and Rodes Hart Dean of Education and Human Development. "Peabody is proud of her contributions to U.S. security and educational excellence. We are pleased to name her our 2016 Distinguished Alumna."
Among her achievements are 18 Centers of Academic Excellence in Geospatial Sciences located at U.S. universities, developed as a collaboration between NGA and the U.S. Geological Survey. Also at NGA, Gant leads pre-collegiate and university engagement to promote new and emerging analytical methods, information technologies and geospatial intelligences science.
Geospatial intelligence specialists analyze imagery and mapping data from sources like commercial and government satellites, aircraft, commercial databases and census information to describe, assess and depict both natural and constructed features and geographically referenced activities. They use that information to discern potential security threats. Geospatial intelligence can be helpful to natural disaster responders or to a team of Navy SEALS on a covert mission.
From 2012 to 2014, Gant served as senior adviser to InnoVision, NGA's research and development directorate. There, she developed policies and programs to support STEM objectives for NGA, DOD, and the White House Office of Science Technology and Policy. She led agency-wide STEM workforce initiatives to support programs such as the Pre-collegiate Unpaid Internship Program and the Research and Development International Geospatial Sciences Career Development Framework and Roadmap.
For the Office of the Director of National Intelligence (ODNI), from 2005 to 2012 Gant guided the Intelligence Community Centers of Academic Excellence, comprising 30 colleges and universities across the United States.
From 2002 to 2005, Gant served as a visiting professor and scholar-in-residence in international affairs at Trinity University, Washington, D.C., before returning to the intelligence community.
Gant's career spans more than 25 years and several countries, including Belgium, England, Italy and Japan. At the Department of Defense, she held a variety of progressively responsible positions, managing multimillion-dollar budgets for human resources, education and technology-based training. She has also worked with Department of the Navy and Marine Corps (Okinawa, Japan), U.S. Air Force (Oxfordshire, England), U.S. Army, Marine Corps Institute, Office of the Secretary of Defense and the Defense Intelligence Agency-National Defense Intelligence College.
"Of all my endeavors and career transitions—accomplishments and successes—over the years, my Peabody experiences, no doubt, played a key role," Gant says. "Peabody gave me the confidence and courage to know that I could be great and walk into any sector of the economy and be successful. Just the name 'Peabody College' rings true around the globe."
In addition to a master's degree from Peabody, Gant holds a Ph.D. from Virginia Polytechnic Institute and State University. She is also a graduate of several executive-level programs at George Washington University, Brookings Institute, Harvard University's John F. Kennedy School of Government and the Department of Defense.
Her colleagues have honored Gant's work many times over. She received the NGA Superior Civilian Service Award, the Navy's Award for Meritorious Civilian Service, the Office of the Secretary of Defense Civilian Service Award, the Defense Intelligence Agency's Director's Award, the DIA Award for Exceptional Civilian Service, the DIA Award for Meritorious Civilian Service, the Marine Corps' Commanding General's Outstanding Employee Award, and ODNI Exceptional Service Awards.
In 2010, Gant received Harvard University's Donald M. Stewart Alumni Achievement Award for leadership and public service. Former Director of Central Intelligence George Tenet also appointed Gant as the intelligence community's representative to President Clinton's White House One America Initiative.
In community service, Gant has been a member of the board of trustees of Episcopal High School in Alexandria, Virginia, where she co-chaired executive committees with Congressman Cass Ballenger. She served as a facilitator for the National Organization of the Presidential Classroom. She has also advised the International Scholar Laureate Program and supervised educational exchanges in Australia, China, Central and Eastern Europe and South Africa. Gant also served on Harvard's John F. Kennedy School of Government Alumni Board as adviser and as a board member of Women in International Security.
Gant is married to retired U.S. Air Force officer Raymond C. Gant, D.D.S. They have two daughters and live in the Washington, D.C., area.