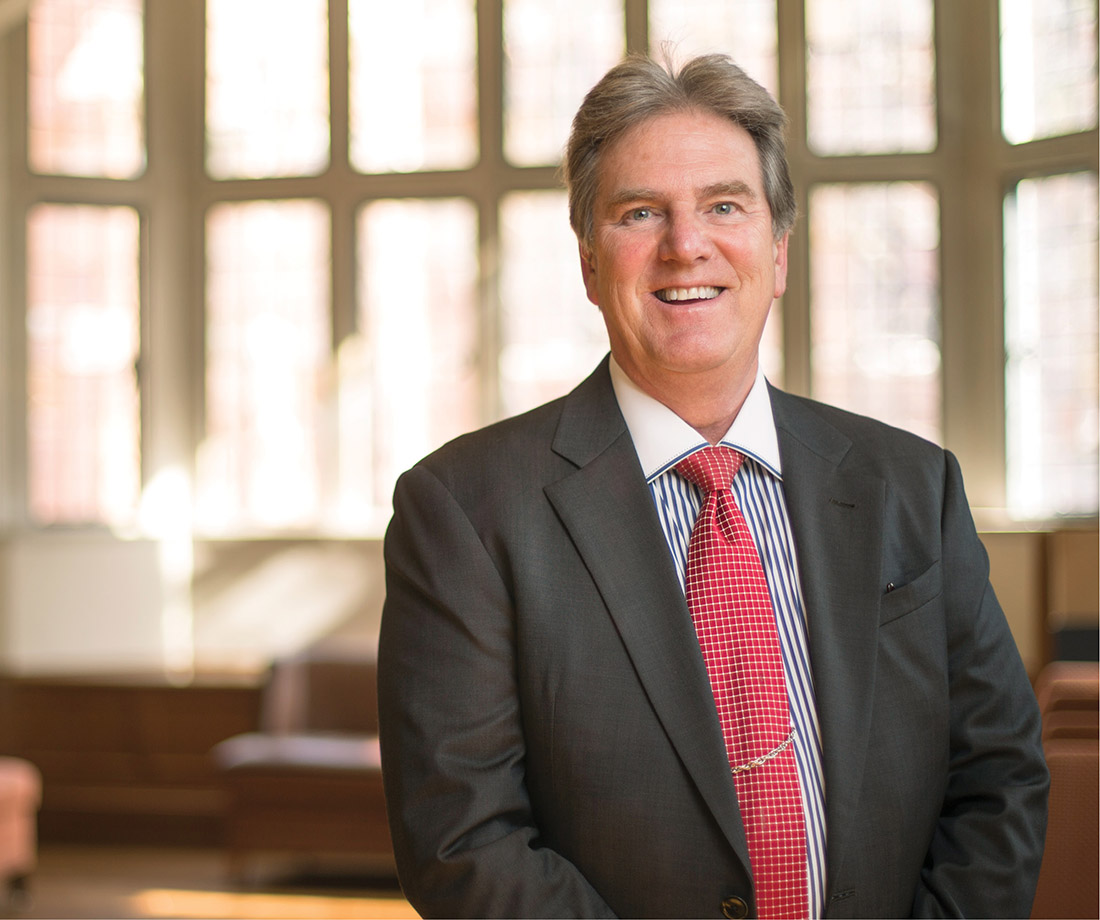 Hoping to ensure that the door to a Vanderbilt education is open to every talented student inspired Board of Trust member Dr. Robert Schiff Jr., BS'77, a Cincinnati pediatrician, to make a transformative $10,000,000 commitment to Opportunity Vanderbilt. Begun at the outset of the financial crisis in 2008, Opportunity Vanderbilt is the university's initiative to replace all need-based loans with scholarships and grants for undergraduate students. Vanderbilt Magazine asked Schiff what motivated his latest gift and why giving back is important.
You recently made a $10,000,000 commitmentto help fund Opportunity Vanderbilt. What prompted the gift?
The gift was made through the Schiff Family Foundation, which was started by my parents, mainly my father. As he got older my brother, Jim, and I began to take it over. Now, as co-trustees [Robert C. Schiff Sr. died in 2010], we have steered it more in the direction of promoting children's health and education. About 80 percent of our grants goes largely to nonprofits in the Cincinnati area. The other 20 percent goes to outside entities, mainly Vanderbilt and Duke, where my brother went to school.
Did anything in particular motivate your commitment?
Whenever my brother and I give money through the foundation, we focus on providing funds for individual programs, whether in education or children's health. So when we started giving to our own universities, we figured the best way to go would be scholarships. When you see kids coming out of school burdened with debt, you don't want them to spend the rest of their lives paying for it. While we want to stay true to our mission of supporting scholars from the Cincinnati area as much as possible, this is an important issue for us.
What kinds of organizations does the foundation support in Cincinnati?
I don't know if you're familiar with the Oyler School. It's an inner-city school—a public school, not a charter—that is quickly becoming a model for what schools in impoverished areas can become. We have a health clinic on site, vision and dental services, and there are social workers available as well. Our involvement mainly has been around providing a high-end early learning center experience for the kids of students at the school. A 15-year-old mother often wouldn't be able to finish high school without available child care. The foundation also works with groups like Cincinnati Children's Hospital and helps fund educational programming at places like the Cincinnati Symphony Orchestra and the Cincinnati Zoo.
What made you decide to become a pediatrician rather than go into the family business?
My dad and my uncle founded Cincinnati Insurance Co., which ultimately became Cincinnati Financial. I think my dad would have liked for me to go into the business with him, but he always told me and my brother that we should do what we want to do with our lives. As early as high school, I knew I wanted to go to medical school.
Is that what attracted you to Vanderbilt?
Yes. I was premed, and that's why I picked Vanderbilt. At the time competition for medical school was very steep and Vanderbilt had one of the best records for getting students admitted to med school. I was supposed to visit Brown—it was my first choice for a while—and they called and said I couldn't get to campus because it was snowed in. Well, I don't ski and I don't like snow that much. So I came down to Vanderbilt for a visit. When I told my friends I was going to school here, they kidded me about coming to learn country music. I still say "y'all" too much.
How important was education in your family when you were growing up?
It was a very different time in the '60s and '70s than it is now. Our parents always encouraged us to do well in school, but there wasn't any undue pressure. When I visited Vanderbilt, my parents just handed me the keys and I came to Nashville with a couple of friends. When our own kids visited colleges, we always went with them. My brother and I didn't face any of the pressures you see today. We didn't have things like the Princeton Review and the U.S. News rankings.
Two of your three children—Meredith (BA'06) and Austin (BA'12)—graduated from Vanderbilt. How do you think their experience differedfrom yours?
Both of my kids enjoyed their time here. Of course, the campus has grown exponentially since I was here. And even though there has been the move toward all first-year students living together on The Commons, I still feel like the residential experience was similar. You're in the middle of a big city, although back in the '70s, Nashville was not the hip place it is today. But it was still fun. Nevertheless, you're still very much self-contained right here on campus.
One of the great things when I was in school—and I think it's still this way today—was the low student–teacher ratio. All my professors were easily accessible. From freshman year on, if you had questions or concerns, you just knocked on the professor's door or went during office hours and had the opportunity to sit down one-on-one with them. A lot of my friends in med school had gone to Harvard and said they might only get to see teaching assistants.
What do you say to alumni who can't make eight-figure gifts?
I think it's important to get everybody involved. Every gift matters. What's most important is our collective input on the lives of others. For me personally, the memories and experiences I've had with Vanderbilt are so positive and such a big part of my life, I'd like to be able to do something. I'm lucky enough to be a trustee on the family foundation where we can give. This is something my parents instilled in me. They said if you're lucky enough to have something to give—whether you're doing it through your church or donations or volunteer service—you need to be doing something for others all the time. We have such a jewel here at Vanderbilt, and I want to do whatever I can to expand on that further.
---
Schiff was interviewed by Vanderbilt Magazine Editor Ryan Underwood, BA'96.
---