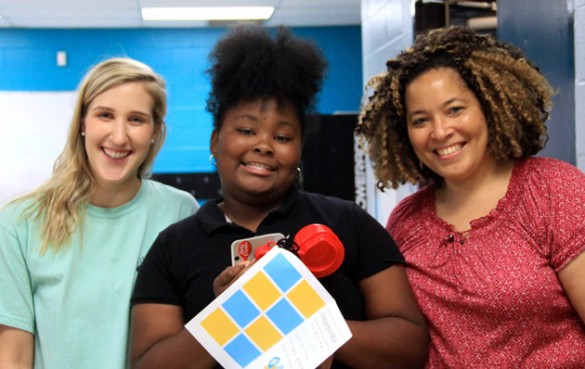 by Kurt Brobeck
A nutrition program where children learn nutrition and cooking skills, in part to influence healthier diets in their households, culminated April 28 when middle school students made dinner for their parents, siblings and caregivers at the East Nashville YMCA.
The Family Fiesta capped the end of a 12-week culinary skills program, a collaboration among Vanderbilt University's Peabody College of education and human development, Nashville After Zone Alliance after school sites, the YMCA Community Action Project (Y-CAP) and Preston Taylor Boys and Girls Clubs.
The Peabody students worked with faculty mentors Sharon Shields, associate dean of professional education and professor of the practice of human and organizational development, and Carol Nixon, senior research associate and the grant's principal investigator, to implement, evaluate and improve the program.
"We are excited about collaborating with our community partners," Shields said. "We want to strengthen the capacity of local organizations to meet the health needs of disadvantaged families."
In addition to transmitting knowledge about cooking and meal planning, Shields and Nixon hope the program will prove useful in reducing obesity, a long-running problem in Tennessee.
"We are interested in gauging the overall effectiveness of the program and whether demographic and community factors influence outcomes," Nixon said.
The young culinary artists were participants in the Pink and Dude Chefs program developed by California Polytechnic State University (Cal Poly) and supported locally by a grant from the Tennessee Health Foundation of Blue Cross Blue Shield of Tennessee.