Media Inquiries
Latest Stories
This event has been canceled due to cloudy skies. Dyer will try again when the next transit is visible on November 11, 2019.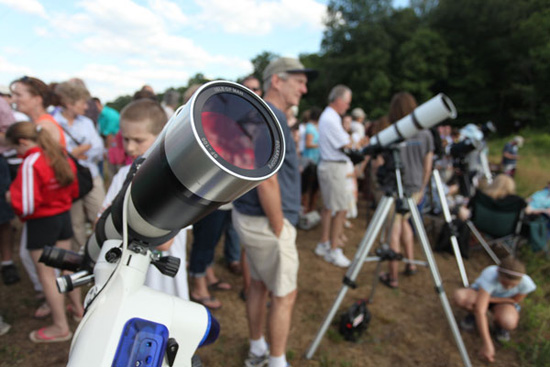 You won't have to stay up all night to take in a rare astronomical event if you go to Vanderbilt Dyer Observatory the morning of Monday, May 9.
Visitors will have the unusual opportunity to safely view the planet Mercury transit directly across the face of the sun through Dyer Observatory's solar telescopes, which will be set up just inside neighboring Radnor Lake State Park, a short walk from Dyer's parking lot.
"[rquote]Over the next 100 years Nashvillians will have an opportunity to see just nine of these transits[/rquote]," said Dyer staff astronomer Billy Teets. "After this May, we will have an opportunity to see one in 2019, but then the next Mercury transit won't be visible here until 2049. If the skies are clear enough, folks should really take the opportunity to view this transit safely through one of our solar telescopes."
Dyer officials stress that the only safe way to view the transit is through a solar telescope, which is equipped with powerful filters to protect the eyesight of observers. "Viewers should never look directly at the sun or point an unfiltered telescope at the sun, not even while wearing solar eclipse glasses," said Teets. "Doing so can cause irreparable eye damage."
Viewing will begin at 6 a.m., when the sun rises, and continue until Mercury completely passes across the sun around 1:30 p.m.
Keivan Stassun, Stevenson Professor of Physics and professor of astronomy, will be on hand from 11 a.m. to 2 p.m. to explain how observing transits across other stars helps astronomers find exoplanets—planets in other solar systems. Additional Vanderbilt astronomers will be available the entire time to answer questions as well.
Radnor Lake park ranger Dustin Crowell will also be on hand with a red-tailed hawk from the Barbara J. Mapp Aviary Education Center. He'll describe the types of raptors commonly found in Tennessee, their hunting strategies and their habitat preferences.
Reservations, Directions and Parking
The event is free, but reservations are required. Reserve online here.
Visitors should park at Dyer Observatory. They will then be directed from the Dyer parking lot a short distance into the park, which borders the observatory grounds, and toward the viewing area.
Dyer Observatory is located at 1000 Oman Drive in Brentwood.