MyVU has profiled a dozen members of the Class of 2016 who embody Vanderbilt's missions of inclusion and community. Representing a diversity of backgrounds and experiences, they've pursued diverse interests at the university. We're featuring their stories in the lead up to Commencement on May 13.
For Rani Banjarian, the summer of 2006 was the defining moment of his young life. For a month that summer, artillery and airstrikes were a daily occurrence as the unrest between his home country of Lebanon and neighboring Israel grew into the July War.
"We were a community of constant tension," said the creative writing and physics major. Banjarian's parents are both physicians, and his father traveled into the war-stricken area regularly to see patients and treat the wounded. "I was just 13 years old. That month is so vivid to me."
Little did Banjarian know that just a few years later, he'd choose Vanderbilt University—sight unseen—and find himself on a beautiful campus in the heart of the American South.
"[rquote]I got here, and everything fell into place," he said. "The combination of rigorous academics and a vibrant student life was exactly what I was seeking.[/rquote] I was learning about myself, college and America all at once. I was learning: What is apple cider? How do you carve a pumpkin? It was a crash course in pop culture."
Two weeks into his freshman year, Banjarian was accepted as a member of the award-winning Melodores a cappella group, which has taken him across the country for performances—including to the White House to sing for President Obama and first lady Michelle Obama.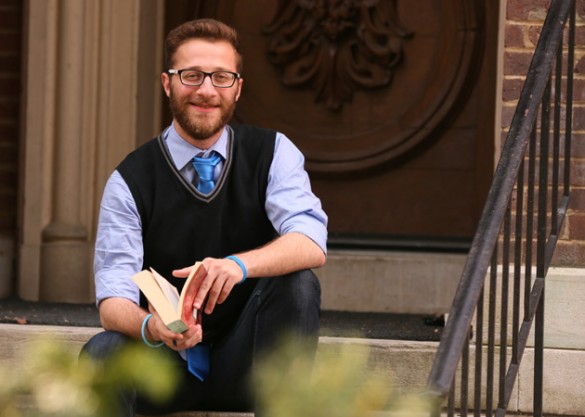 Banjarian, an admissions tour guide and a VUcept student mentor, also found his voice as a writer. This year, his short story "Lullabies in Arabic" won the 2016 Dell Magazines Award for Undergraduate Excellence in Science Fiction and Fantasy Writing. Themes from the summer of 2006 are woven into the work. In addition to the award's $500 prize, Banjarian traveled to Florida this spring to give a reading at the Conference on the Fantastic.
After graduation, he hopes to work either in Vanderbilt Admissions or with EducationUSA, a U.S. Department of State network of more than 400 student advising centers in 170 countries.
"I now understand what liberal arts is about—it's allowed me to expand my horizons," he said. "I would not change a thing about my Vanderbilt experience."
Video produced, shot and edited by Zack Eagles and Amy Wolf.