MyVU has profiled a dozen members of the Class of 2016 who embody Vanderbilt's missions of inclusion and community. Representing a diversity of backgrounds and experiences, they've pursued diverse interests at the university. We're featuring their stories in the lead up to Commencement on May 13.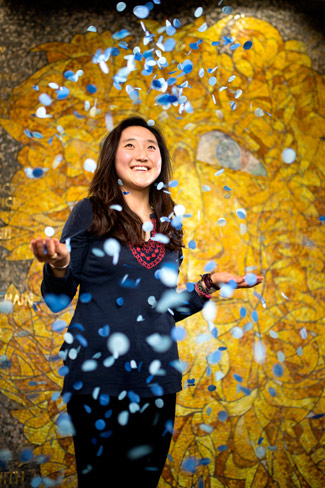 Like many little girls, Eunice Jun was a ballerina growing up. But by the time the Los Angeles native arrived at Vanderbilt four years ago, she had traded in her toe shoes to cultivate twin interests in graphic design and technology, pursuing double majors in cognitive studies at Peabody College and computer science at the School of Engineering.
During her sophomore year, Jun won a Littlejohn Fellowship assisting Ted Fischer, professor of anthropology and director of the Center for Latin American Studies, who had recently launched a project to combat malnutrition in Guatemala. Fischer needed to update the educational materials and packaging that accompanied a pediatric nutritional supplement that Mayan mothers, many of whom were illiterate, would give to their children. The fellowship enabled Jun to travel to Guatemala to interview mothers and teachers and observe how they communicated with their children and each other. She then used the data gleaned from her field research to develop more culturally accessible materials.
"It was incredibly rewarding to work with a student so talented and motivated," said Fischer, whose Mani+ ("Mani-plus") nutritional supplement entered mass production this year. "We still use the materials Eunice designed for the project."
Back in the states, Jun began to translate her love of 2-D visual communications into 3-D and landed in the virtual reality lab of Robert Bodenheimer, associate professor of computer science. There, she's been using an Oculus Rift virtual reality headset to research questions about how we process information about our virtual bodies as we perform tasks in a virtual environment.
Jun manipulates the size and scale of her subjects' virtual bodies—or whether they can see their entire virtual bodies or just an isolated body part—and studies how those perceptual variations affect a subject's evaluation of his or her ability to perform assigned tasks. "[rquote]It ties into what I thought about as a dancer in that I was always very aware of moving through space," she said.[/rquote] "I'd always thought about it in an artistic sense, but doing research like this helps me see it in a different way."
An Ingram Scholar, Jun went abroad again last summer—this time to Ireland to research human-computer interaction through information visualization. "The Ingram Scholarship Program and my study and research abroad have been very formative experiences," she said.
After Vanderbilt, Jun plans to put the lessons she learned in Guatemala, Ireland and the virtual reality lab to work as she pursues a Ph.D. in computer science. She hopes to work on human-computer interaction design theory.
"The question is, how do we design technology for cross-cultural communities?" Jun said. "Working on Mani+ informed that a lot."